On newsstands July 5, 2017
Winter Is Here! All You Need to Know About the Penultimate, Action-Packed Season 7 of 'Game of Thrones'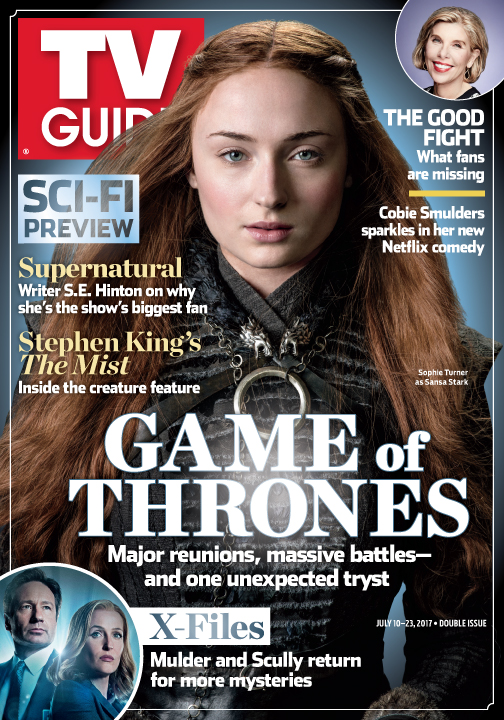 Remember young Sansa (Sophie Turner)? That sweet Stark girl who believed in fairy tales and wanted to marry a handsome prince? Well, she's officially gone. In Season 7 of HBO's megahit Game of Thrones, this hardened survivor of rape and betrayal is writing her own story—and her tale will only get more twisted.
"Sansa is being tested like never before," Turner teases of the newly minted murderess, who will question old alliances as well as her own judgment. A peek at this comes on the set in Northern Ireland, where Sansa isn't playing nice with half-brother Jon Snow (Kit Harington), now King in the North. But you don't wonder for a second who will win this sibling squabble.
This formidable new Sansa is just one player in a complex penultimate season that brings reunions (those rumors are only the beginning, fans), unbelievable alliances (yes, plural) and, ultimately, the Great War—a fight for the throne waged by leading noble houses, including Stark; Lannister, currently in control under Queen Cersei (Lena Headey); and Targaryen, led by Daenerys (Emilia Clarke), freshly arrived in Westeros with a massive army and the belief that she's the realm's rightful heir.
Yet—if you can believe it—there is an even bigger threat. "Everyone is facing something more dangerous to all of them than any danger they are to each other," executive producer Dan Weiss says. That force? The Thrones version of climate change: Winter has arrived. And beyond the Wall, the Night King and his undead army of White Walkers are marching ever closer.
With the action galloping at a faster pace, it took producers longer to shoot seven episodes than it does to film their usual 10. The special effects budget has been increased to roll out bigger armies, dragons the size of 747s and a massive sea battle that will reportedly sail past Season 2's Blackwater in scope—and leave a few casualties along the way. "There are magnificent action scenes," executive producer David Benioff vows, "different from anything we've ever done." Plus, he says, "there might be some surprising hookups this season."
Also in this special Sci-Fi Preview issue:
Sci-Fi/Fantasy Preview: A deep dive into every otherwordly show airing this summer—get to know the powerful residents of Midnight, Texas, Nasim Pedrad talks about People of Earth, the deadly new creature in the Stephen King adaptation The Mist, the cameos you'll see in Sharknado 5 and much, much more.
Story of a Girl: Kyra Sedgwick embarks on a new career (director!) in this filmed version of the acclaimed YA novel, and her husband and daughter Kevin and Sosie Bacon are in front of the camera.
Friends From College: How I Met Your Mother breakout Cobie Smulders stars with Keegan-Michael Key and Fred Savage in this new Netflix comedy.
• Plus: David Bianculli on whether The Good Fight is worth pitching in for another log-in, S. E. Hinton pens a guest column on her love for all things Winchester and Supernatural, a postmortem on Pretty Little Liars, World of Dance judge shares her nighttime TV favorites, Shooter returns, Will brings back some Shakespeare swagger, and the best of movies, streaming, sports and more.