The Force is Strong With Disney XD's Star Wars Rebels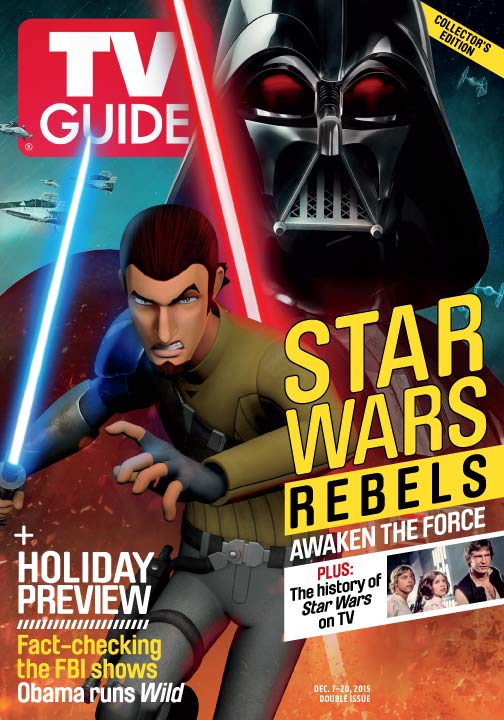 Cover illustrated exclusively for TV Guide Magazine by Disney XD/Lucasfilm
Siths about to get real, people!
As the long-awaited Star Wars: The Force Awakens hyperdrives into theaters this month, the action on Disney XD's Star Wars Rebels is heating up too. Just don't call it a kids' show.
"We do get rather dark and more serious this season, because the story has to go that way," teases executive producer Dave Filoni. Set five years before 1977's original, A New Hope, this CGI series about a band of do-gooders in the early battle against Darth Vader's tyranny not only balances the grim realities of civil war with blasts of goofy humor, but it is also the network's No. 1 show among adults 18–49 and a canon-expanding essential for everyone obsessed with that galaxy far, far away—no matter their age.
"For my generation, it's the norm to be into Star Wars," says Filoni, 41. "There was no such thing as a 'Star Wars fan.' You were just a kid lucky enough to grow up with this awesome entertainment." Fittingly, it was Filoni's lifelong affinity for all things Jedi that landed him within the beloved franchise's expanded universe on TV.
"I thought it was a practical joke," he says of the 2005 call he got from Lucasfilm Animation while working on Nickelodeon's Avatar: The Last Airbender. "I almost hung up on them because I thought it was my friends giving me a hard time." Instead, Filoni was interviewed by George Lucas himself, who immediately hired him to direct Star Wars: The Clone Wars, 2008's big-screen animated flick that takes place between Attack of the Clones and Revenge of the Sith. After that, Filoni transitioned to overseeing Cartoon Network's The Clone Wars, the ongoing tale of clone troopers, Obi-Wan Kenobi and the pre–dark side Anakin Skywalker. Yet unlike the Jedi Council's most notorious turncoat, Filoni proudly states, "Since '05, I've been quite literally studying the ways of the Force year in, year out, trying to improve my skills."
Seven years after Filoni's first meeting with Lucas, in another corner of the galaxy, big-screen film producer and writer Simon Kinberg (X-Men: First Class, The Martian) was earning his X-wings via a two-week powwow with a crew of writers and consultants—including Empire Strikes Back and Return of the Jedi scribe Lawrence Kasdan—all recruited by Lucasfilm before its sale to Disney to map out the next wave of Star Wars stories. "We operated like a little TV writers' room and just talked about what we would love to see in future Star Wars sagas," recalls Kinberg, a creative consultant on The Force Awakens.
The confab also led to his alliance with Kiri Hart, head of development at Lucasfilm, and the birth of Rebels. "She sent me an email afterward saying, 'We're thinking about doing a new animated show. I know you're excited about writing things that your kids can grab hold of, so do you think you'd be interested?'" One excited reply yes—"in all caps and with 10 exclamation points"—later and, Kinberg says, "That was the beginning."
So, like Han and Luke before them, Kinberg and Filoni united to form what Kinberg calls "a family unit crossed with the A-Team" for Disney XD's 2014 pilot Star Wars Rebels: Spark of Rebellion. The story featured de facto leader Kanan Jarrus (voiced by Freddie Prinze Jr.), a cowboy Jedi who survived the Emperor's Order 66 decree to kill off his entire kind; Twi'lek Hera Syndulla (Vanessa Marshall), an ace pilot of the spacecraft The Ghost and newly minted captain of the rebel cell known as Phoenix Squadron; Sabine Wren (Tiya Sircar), a Mandalorian graffiti artist with mad explosives skills and a murky past; Zeb (Steve Blum), a hulking, smart-mouth alien sworn to making the Empire pay for slaughtering his species; and Ezra Bridger (Taylor Gray), a teen grifter from the planet Lothal.
Currently in its wildly entertaining second season (Season 3 will premiere in 2016)—and filled with animation inspired by the original trilogy's late conceptual designer, Ralph McQuarrie—Rebels' deepening mythology is largely linked to the nascent Jedi powers and orphan status of the Luke Skywalker–esque Ezra.
"He's got some more wisdom now. He knows how to use the Force a little bit," explains Gray, teasing a "huge" upcoming storyline about Ezra's mother and father, long believed to have been executed for speaking out against the Empire when he was 7. "This whole story with his parents has been looming over him. He's accomplished a lot over the course of the first season and has found his own family with the rebel group," the actor continues. "The one question that's still unanswered for him is: What happened to his parents?" The answer to that, Gray hints, "will determine what Ezra's fate is."
In other major storylines this season, Kevin McKidd of Grey's Anatomy will voice a new Mandalorian character, potentially linked to Sabine's soon-to-be-revealed backstory ("She's as important to the series as Ezra, as far as who this show is about," Filoni hints). The Jedi-hunting Inquisitor known as the Seventh Sister (voiced by Prinze's wife, Sarah Michelle Gellar) is set to cause trouble for Kanan. And Ahsoka Tano (Ashley Eckstein), Anakin Skywalker's former Padawan introduced in The Clone Wars, may get the goods on her old master. Despite a handful of appearances on Rebels, the fan favorite has yet to untangle her ties to Darth Vader, nor has it been revealed why Ahsoka was never seen in the prequel films or what she's been up to since leaving the Jedi Order during the Clone Wars. Given that we'll definitely be seeing Vader (voiced by James Earl Jones, no less) again, along with Frank Oz's legendary Yoda (who has previously only been heard on screen) and at least one major legacy character from the films, this could mean that we will finally have some answers about Ahsoka's missing 15 years.
"I want to know too!" Eckstein exclaims. "I do hope that we get to explore that someday, but at least we get the story that we're [building] to now: more Ahsoka, more Darth Vader. I can promise it'll blow people's minds."
Filoni, meanwhile, is intent on not blowing any future plot twists, keeping them more guarded than plans for a Death Star. When asked what lies ahead, he simply allows that the whole Ghost crew is in for a wild ride. "The dark side is growing…and the more ripples Ezra makes, the more powerful he becomes."
It seems the Force is strong with this one too.
Star Wars Rebels airs Wednesdays, 9:30/8:30c, Disney XD
ALSO IN THIS ISSUE:
Holiday Preview: Merry episodes from Fresh Off the Boat, Arrow, NCIS: LA, black-ish and more
On the set of the NBC musical Dolly Parton's Coat of Many Colors
Syfy adapts the classic alien fantasy novel Childhood's End in an ambitious new miniseries
Plus: Supergirl, Luther, Fargo, NCIS and more