On newsstands March 29, 2017
Pierce Brosnan Is Back After Three Decades With the Epic Western 'The Son'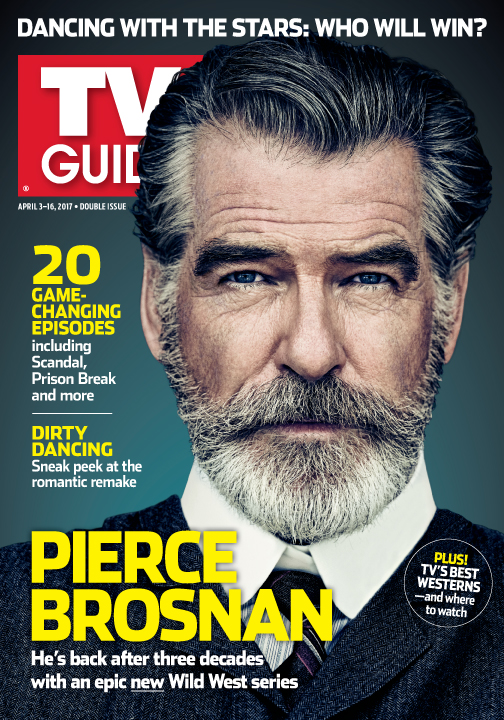 If J.R. Ewing had been born in the mid-19th century and abducted by the Comanche, the irascible Dallas patriarch could have been Eli McCullough, the hard-bitten Texan at the center of The Son, AMC's new multigenerational Western saga.
Based on Philipp Meyer's critically acclaimed novel, the new series follows the epic journey of McCullough—"the First Son of Texas, born on the day in 1836 that the former Mexican province became an independent republic," explains executive producer Kevin Murphy. "At heart, though, Eli is a Comanche pretending to be a cowboy."
The story of Eli's long, eventful and blood-soaked life is told in two different periods. It begins in 1849, when the young Eli (Jacob Lofland) tries to adapt to his new life as a captive of a warrior tribe. Then the drama moves to 1915, when the aging cattle rancher and budding oil mogul (played by Pierce Brosnan in his first full-time series role in 30 years) struggles through a turbulent period in South Texas.
The Son also examines Eli's complex relationships with his family, especially his son Pete (Henry Garrett) and Pete's daughter, Jeannie (Sydney Lucas). "Pete questions the morality of his father," Garrett says. "He knows he's a great man who does terrible things, and he struggles to stand up against him."
To play Eli McCullough, "we needed someone who was incredibly charismatic, whom viewers would believe that people would follow to the pits of hell," says Meyer, also an executive producer. "Pierce has this reservoir of rogue Irish charm. His character can do the most terrible things and somehow you find yourself forgiving him."
The tireless 63-year-old Irish-born actor shares with TV Guide Magazine his thoughts on growing up with Westerns, being back on a series and loving James Bond.
Also in this brand-new issue:
Catherine Zeta-Jones: The Oscar winner (Chicago) and Tony victor (A Little Night Music) shares what it's like to step into the fancy shoes of a Hollywood legend—the 100 years old and counting Olivia de Havilland—in Feud: Bette and Joan.
24: Legacy: Series regular and Emmy winner Dan Bucatinsky takes us inside the set of the Counter Terrorism Unit's Washington D.C. headquarters that designate Fox's hit actioner.
The Ladies of Reelz: Nancy O'Dell, Deborah Norville and Natalie Morales talk about their new Reelz docuseries Nancy O'Dell Remembers, Behind Closed Doors and Exposed With Deborah Norville.
• Plus: Former Dancing With the Stars pro Louis Van Amstel previews his picks for who will win the Season 24 Mirrorball trophy and the best of movies, Freddie Highmore shares what it was like to go Psycho as Bates Motel airs its final episodes, first looks at the new Dirty Dancing movie for ABC and T.R. Knight's dramatic makeover as J. Edgar Hoover in National Geographic Channel's Genius, a tribute to the Gong Show maestro Chuck Barris, and the best of streaming, sports and more.