On newsstands October 8, 2015
DiNozzo Goes West: NCIS's Michael Weatherly Crosses Over to Los Angeles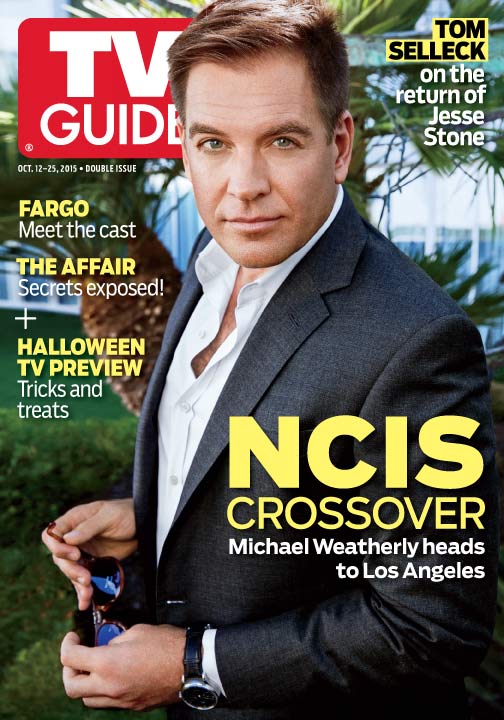 Cover photograph of Michael Weatherly by Jim Wright for TV Guide Magazine
It's 8:35am in Los Angeles and Michael Weatherly is on the road in hot pursuit of a small sedan. The actor's nearly 2-year-old son, Liam, has lost a toy car in the backseat, and Daddy has dutifully pulled over to find it—getting to preschool by nine, be damned! And now Liam has accidentally hit himself in the face. "Hold a diaper on it," Weatherly advises, eliciting a fit of giggles from the toddler. "This is the full Michael Weatherly experience," one of TV's highest-paid stars jokes, "Now let's talk about my experience guest starring on NCIS: Los Angeles."
OK, let's. Since 2003, Weatherly has played Naval Criminal Investigative Service Agent Anthony DiNozzo, a bighearted ladies' man, brass-balled quipster and excellent dresser, on four different shows. It all began with the two-part episode of CBS's JAG that spun off into NCIS (TV's top-rated drama series for the last six years). In 2014, he briefly appeared on the second installment of the franchise's newest offshoot, NCIS: New Orleans (almost entirely in a hazmat suit). Yet, it's taken seven seasons for him to cross over to NCIS: Los Angeles. "We've been trying for years to find a way to get DiNozzo on the show that's not just a cameo," NCIS: L.A. executive producer Shane Brennan says. "We wanted Tony to really be part of the story."
They finally figured it out. On the October 19 episode of NCIS: L.A. (10/9c, CBS), Tony hits up the West Coast bureau for help in finding an escaped money launderer (comedian Bobby Lee) running amok in the city. And, lucky for him, special agents Callen (Chris O'Donnell), Sam (LL Cool J) and Kensi (Daniela Ruah); LAPD detective Deeks (Eric Christian Olsen); tech geeks Eric (Barrett Foa) and Nell (Renée Felice Smith); and their bosses, Hetty (Linda Hunt) and Granger (Miguel Ferrer), are up for it. But Tony spends more time working with new lovers—and audience favorites—Kensi and Deeks than with anyone else.
Should Densi fans feel threatened? "DiNozzo obviously flirts with Kensi," explains Olsen. "But he's also kind of flirting and being competitive with Deeks, who reciprocates that flirtation and competitiveness. It's a bizarre yet classic love triangle that's wonderfully appropriate because Michael Weatherly is my man crush." Speaking of man crushes, "Whether working with Michael or just hanging out with him, it's always a great experience," gushes LL Cool J. "He's a funny, talented guy. That's the homie!"
And he hasn't even seen him with a baby. Back in the car, Liam's toy turns up wedged between the boy and his seat—leaving Weatherly, 47, free to chat about the episode (titled "Blame It on Rio"), his time on set and what's in store for Tony.
What's your favorite crossover episode to date?
Dare I say that my favorite crossover episode hasn't aired yet, and it's called "Blame It on Rio"? [Laughs] Seriously, my favorite isn't technically a crossover. Tom Selleck once played a very Magnum-like private detective on a few episodes of The Rockford Files. He magically knows where everything is and would just get lucky as a detective all the time. Jim Rockford [James Garner] just hated him because he was so perfect.
Do you like shooting crossovers?
They're a peak experience for someone like me. For 13 years, besides a tiny part here and there, I've just been playing DiNozzo. So having other experiences with the character is super important to me. Plus, I love to see how DiNozzo travels, how he'll be in different settings. On NCIS, he can only do so much.
What was it like to be on another set?
To be honest, I was a little nervous about going into NCIS: Los Angeles because I wasn't sure how DiNozzo would be received—not just by the team, but by the audience. Would he mesh with them? Look, I'm the same age as LL Cool J and I think we were the oldest guys on set next to Miguel Ferrer! But that's the funny thing. Rather than having to play a faux youth like on NCIS, I was playing a little creaky on NCIS: L.A. And I enjoyed that Eric and Daniela were all really athletic and beautiful around me. [Laughs] It was just really refreshing. I felt like "Oh, s–t, am I aging out of the game?" Which I realized is totally a DiNozzo paranoia.
What was one of your favorite things about filming the episode?
I got to work with Eric and Daniela, two people I've really only seen on the red carpet or watched on TV. I just had so much fun with them. They are so loose. They gel really wonderfully as a cast, and the environment is fun. Would I ever return to visit them again? Absolutely.
What's the biggest difference between the two sets?
They're in L.A. shooting L.A., while we're in L.A. shooting D.C. We always have to hide the palm trees, and they are always looking to put the palm trees in the shot. I definitely had a very good time shooting L.A. for L.A.
Doesn't DiNozzo stick out?
Oh, yeah. I'm still dressed the way DiNozzo dresses when he's in D.C. A coat and tie—DiNozzo is a little faux GQ—seems a little more normal to East Coasters. In Los Angeles, he looks totally out of place. No one is wearing a collar on NCIS: L.A. They're all in T-shirts or muscle shirts. [Laughs] It's really fun to see him as a fish out of water—but one who's swimming with very like-minded people.
It's a bit surprising, actually, that he would let the L.A. team take the reins on the case.
Dennis Smith, who directed the episode and has done 60 episodes of NCIS, always reminds me that DiNozzo has to be two things simultaneously. On the one hand, he's always thinking outside the box and being hilarious…to himself. But he's also a great agent. Part of that is understanding that the other agents know the terrain. DiNozzo works smarter, not harder.
Have you ever thought about making a DiNozzo-centered spinoff?
Yes. I've thought about it, because it seems only natural considering the growth of the character. That could be a possible scenario in the distant future.
According to executive producer Gary Glasberg, Tony is going to have a really emotional year.
There's somebody returning from his past. And this person is a lightning rod for DiNozzo. Their return activates a very big change in him.
Could it be Jeanne Benoit (Scottie Thompson)? Or Ziva (Cote de Pablo)?
I don't know if he's ready for Ziva! This person is an agent of change, but not an agent. And the truth of the matter is that the show was devised so that all these characters are married to their job. DiNozzo has struggled over the years to try to mature and share his life with somebody else. And now his life is shifting because Jeanne is back. It's really a case of: Has the plant gotten too big for the pot? Is it time to repot DiNozzo? That's one of the reasons I was so excited to go to NCIS: L.A.
Wait, does this "change" mean we can look forward to some baby DiNozzos?
[Laughs] Look, we tease a lot of things, but I can say with a hundred percent certainty that some minds are going to be blown by what happens, and it's going to affect some of the fundamental aspects of the show. That's going to be fascinating to watch. This isn't some fake press release advertising "a year of change." This is truly going to be a challenge for the audience. But right now I can't find my son's other shoe!
ALSO IN THIS ISSUE:
Halloween Preview: sneak peeks at spooky episodes of Bones, The Vampire Diaries, The Simpsons and more
Hail to the original scream queen: Why we love Jamie Lee Curtis
Joshua Jackson and Maura Tierney share their perspective on The Affair's second season
Plus: Fargo, Chicago Fire, Blindspot, The Originals and more