On newsstands March 15, 2017
Katie Holmes and Matthew Perry as Jackie O. and Ted Kennedy: Inside the Reelz Miniseries Depicting the Clan 'After Camelot'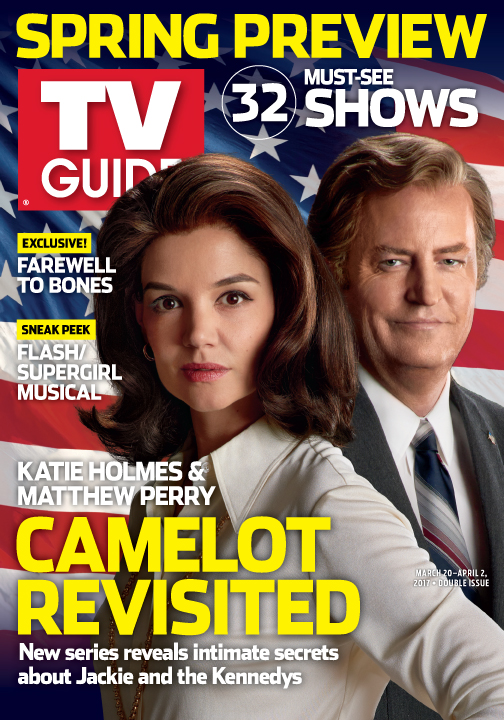 Few Hollywood love affairs have lasted as long as the 57-year romance between TV and the Kennedys. Gorgeous and composed, John F. Kennedy was as telegenic as politicos get—and there's no doubt that the first televised presidential debate clinched his win over rumpled, ruffled Richard Nixon in 1960.
The famous clan and the small screen have since had ups (First Lady Jackie's 1962 Tour of the White House special) and downs (the sticky 1979 CBS Q&A that ended Ted Kennedy's POTUS bid). They've also had fiery feuds, like the fuss over 2011's Katie Holmes–led, dirty-laundry-airing miniseries The Kennedys. Even The New York Times ran a front-page story in which Kennedy cohorts damned the $25 million event. Its first home, History, pulled the project, allegedly due to heat from the dynasty. Yet the Reelz network, which excels in true-crime docs (many Kennedy-centric), doubled its viewership just by picking up the show. The April airing broke ratings records, and Barry Pepper won a Best Actor Emmy for his portrayal of Robert F. Kennedy. "The family always does well for us, no matter the format," Reelz CEO Stan E. Hubbard says. "People want to know them."
Now Holmes, Reelz and the producers of that program (including 24 Emmy winner Jon Cassar) are back with The Kennedys: After Camelot, based on biographer J. Randy Taraborrelli's bestseller. The four-part drama starts where the original stopped, with the 1968 assassination of Bobby in the kitchen of the Ambassador Hotel in Los Angeles. It trails the clan, particularly Jackie (Holmes, who also directed Episode 3) and Massachusetts Senator Ted (Matthew Perry), throughout the 20th century—ending in 1999, when John F. Kennedy Jr. (Brett Donahue) and wife Carolyn Bessette (Erica Cox) died in a plane crash en route to the brood's Martha's Vineyard compound.
"It covers so much of Jackie's life. I couldn't pass it up," says Holmes of returning to the role. "It's about Jackie's journey as a woman. She overcomes tragedy, becomes a mother on her own, falls in love again with Aristotle Onassis and then reinvents herself as a book editor after his death. All with a heavy heart."
Read the full story on newsstands now.
Also in this special Spring Preview issue:
• March: Jane Fonda and Lily Tomlin get ready for big business in Season 3 of Netflix's Grace and Frankie, Sanaa Lathan investigates Shots Fired, and Dharma & Greg star Jenna Elfman on her return to network comedy in Imaginary Mary; plus more.
• April: The Leftovers gets even more mysterious in its last season, Oscar winner Geoffrey Rush gets brainy as scientific wonder Albert Einstein in Nat Geo's Genius, Neil Gaiman's celebrated American Gods becomes a much-waited Starz series; and more.
• May: Kevin Bacon gets all Texan in the new Amazon comedy I Love Dick, David Lynch's benchmark Twin Peaks returns after 26 years with most of its original cast intact, courtesy of a makeover from Showtime. Also: quick takes on Unbreakable Kimmy Schmidt, House of Cards; and more.
• Plus: A farewell to the long-running and beloved procedural Bones, a deep dive into the musical crossover episode featuring the casts of The Flash and Supergirl, tributes to Bill Paxton, Robert Osbourne and Judge Joseph Wapner, The Bold and the Beautiful navigates new nuptials, Matt Roush reviews new titles including Marvel's Iron Fist and 13 Reasons Why and the best of movies, streaming, sports and more.