On newsstands January 29, 2015
Blue Bloods Star Tom Selleck is the Shy, Not Retiring Type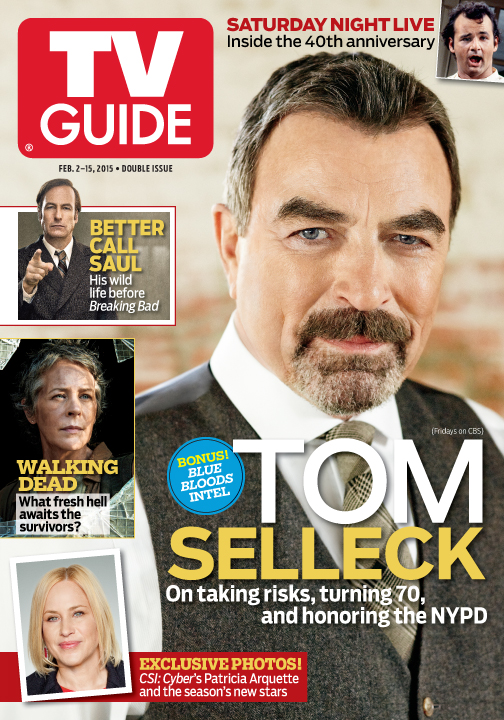 Cover photo of Tom Selleck by Jeff Lipsky for TV Guide Magazine
Unlike Frank Reagan, the stern NYPD police commissioner he plays on his CBS hit Blue Bloods, the off-duty Tom Selleck likes to smile, flashing the deep-dish dimples that have won over audiences for more than four decades.
Dressed like the California rancher he is in a tan corduroy vest and casual blue-striped shirt and jeans, the grandfather of six (from stepson Kevin) talks easily and openly over scrambled eggs and bacon in the restaurant of an elegant Upper East Side apartment hotel where he lives while shooting the series. The voluble Selleck is happy to discuss his long career, talk a little politics, and to reveal that—though he may not seem it—he's been shy his entire life.
First, happy birthday! Do you mind if we reveal that you are turning 70 on January 29?
No. Everybody's talking about it. It's no big to me. I probably won't even do a celebration. My wife, Jillie, won't throw a surprise party, but I'll be working and I'm sure my TV family will have a cake for me.
Mark Harmon recently said that he doesn't spend one second thinking about his appearance. Do you?
I do. I like to think it's in the context of the work. Clark Gable used to say [acting] isn't a normal occupation for a man. I tend to think that. I don't primp. I haven't had anything fixed. Except my hip. I played a lot of sports, and I got a new hip during the last hiatus.
Congratulations are also due for Blue Bloods' ratings. You're averaging 13.6 million viewers. Not bad for a show in its fifth season.
Last week, we were the No. 1 scripted show at 10pm on any night. I get a little frustrated that it doesn't seem to register with people what we accomplish on Friday nights.
You've complained that CBS doesn't promote the show enough.
They don't. I think CBS is very happy with our performance, but sometimes they forget about us. Nonetheless, people find us.
After five years are you still enjoying playing Frank?
I'm not bored at all. He's a fascinating character and a very difficult acting challenge. A good commander can't show anxiety, worry, or weakness when he's in front of his people. The challenge as an actor is how do I let the audience know how concerned Frank is about the people he leads, while playing a character who has to put on a command face.
Off the set, you are warm and informal, but on screen you seem to really inhabit the commanding presence of New York's top cop.
Thank you. There were a couple of early scripts when I would be barking out orders: "Send eight cars there! Do this! Do that!" I said to the producers, "I don't have to prove I'm the boss. I am the boss, or you wouldn't have hired me." I can play that serious gravitas, but I'm happy that when [executive producer] Kevin Wade came in, he gave Frank some humor.
You know Bill Bratton, New York City's current police commissioner. Do you learn anything from him?
I do. Bratton had a lot of influence on me. I read his book Turnaround, about his first time on the job, under Rudy Giuliani. Though they were on the same page philosophically, there was a lot of conflict between the mayor and his police commissioner.
How close to reality do you want the show to be, considering the strife that is going on now with the New York cops, Mayor Bill de Blasio, and Bratton.
It's lazy and inappropriate to rip things from the headlines. There's stuff on the show that seems very timely, but really was developed months before. We've shown conflict between Frank and Mayor Poole [David Ramsey] for three years. When we do handle difficult storylines, we feel a responsibility to show both sides in a dramatic way. Not balance for balance's sake, but because it makes Frank stronger if you don't dumb down his opponents.
What do cops say to you when they see you on the street?
The actors, writers, and producers don't want to make NYPD officers perfect, but I know that a lot of cops think we are presenting a three-dimensional picture of who they are in life. All cops have to salute the police commissioner, and sometimes I get a salute! That's a big deal.
You were 35 when you won fame playing the irrepressible private eye Thomas Magnum. What were you doing before that?
Six unsold pilots.
Weren't you a model for a while, and even a Marlboro Man?
I did a Salem billboard for about 500 bucks and forever since I've been called the Marlboro Man. I did commercials and maybe four still-photography jobs to pay the rent. But in those days, being known as a male model didn't help your career.
So you weren't discovered for your looks at a soda fountain like Lana Turner?
[Laughs] Actually a casting director saw me on The Dating Game, where I was hopelessly inept.
What were you doing on The Dating Game?
All my fraternity brothers at the University of Southern California were going on with their girlfriends. Shame on them, they would rig it and pretend they didn't know each other. I was hopeless. I was very shy.
You were good-looking and an athlete—on the baseball and basketball teams!
All through high school and college, if I fancied someone I had to be fixed up and double-date.
Those women must have kicked themselves later that they didn't choose you.
Well, I got a good agent from doing the show who helped me get an audition for a 20th Century Fox new-talent program. I was in business school planning a career with United Airlines, and I'd never done any acting! I did a horrible scene from Barefoot in the Park, but I was lucky because [20th president] Dick Zanuck was a huge UCLA basketball fan and he asked me if I knew Kareem Abdul-Jabbar [then known as Lew Alcindor]. When I told him that I played against Kareem [in USC–UCLA games], that's probably why I got the job. It was a blessing, because I never got a grade higher than a C in my major. When I asked my dad whether I should take the chance to quit United Airlines and take the Fox training and earn $35 a week, he told me, "I don't think you want to be 35 years old and look back and say, 'What if?' " He really embraced risk. [Selleck's eyes tear up.] Sorry, I get emotional. There's a bit of my father in Frank Reagan.
What other risks have you taken professionally?
A lot of people told me not to do [the 1997 film] In & Out because I was playing a closeted gay television reporter, and a tabloid had said I was gay just a few years earlier. I said, "I've been trying to do an ensemble comedy forever, and this is one of the best ensembles I've ever seen." Because I had sued several tabloids for falsely saying I was gay, people were saying I was anti-gay. Playing the role ended both those rumors.
How did you wind up playing Courteney Cox's boyfriend Richard on Friends?
I had just come off three big-grossing movies, and I got professional advice saying, "If you do this, they'll say you're crawling back to TV." I had an edge on the role because I had screen-tested with Courteney and I knew we'd have chemistry.
Is there any project you really regret doing?
There's only one movie I say ill things about. I was offered [1992's] Christopher Columbus: The Discovery, with Marlon Brando, who in my generation was the Man. I said I'd only do it if Brando was in it. But when I got on set, instead of seven scenes with Brando, there was only one and he didn't speak. I tried to quit, but I was warned I'd be sued. It was a horrible movie! Gene Siskel reviewed my hair. I realized that wanting to act with someone, even Brando, was a bad reason to take a role.
On the other hand, you nearly did Raiders of the Lost Ark, right?
There's a myth that I turned it down. Steven Spielberg and George Lucas wanted me to do it and held out the offer for a month, but I had the Magnum, P.I. pilot and CBS wouldn't let me do both.
You and your second wife, Jillie Mack, have been married for 27 years. How did you meet?
I was filming Lassiter in London. I went to see Cats because my friend Brian Blessed was in it, and I was fascinated by this person who looked pretty good in her leotard and whiskers. People in the show told her the guy from Magnum was staring at her and she said, "What's that?" When I called her, I hemmed and hawed so long, she finally asked, "Would you like to take me out for a cocktail?"
Does your daughter with Jillie, Hannah, want to be an actress?
No, thank God. I'm very proud of her. She's an equestrian, and wants to ride in the Olympics.
You've said that you were sometimes put in a box politically, especially after you appeared at the Republican convention in 1984 and worked with the NRA.
And my commercial for [right-leaning magazine] National Review, which didn't help. I don't mind saying I certainly lean toward being a conservative civil libertarian, but I have given money to Democrats and I served on the board of the [bipartisan] Josephson Institute of Ethics for 20 years.
How do you feel about actors speaking out about their political beliefs?
I believe strongly that you don't use your access to the media to blow your political horn when you're on someone else's nickel. I would defy anybody who watched Rosie O'Donnell ambush me on her talk show [attacking my support for the NRA] to tell me what movie I was promoting.
Jesse Stone, your last TV movie franchise, did pretty well. Could it be revived?
Pretty well? The last movie had almost 15 million viewers! There's a lot of interest out there in the business about doing more, probably not on CBS.
CBS owns the rights doesn't it?
Yes, but I have permission to take it elsewhere. Cable's the place for it. Cable is a little more grown up. Jesse's very adult.
It doesn't sound like you're ready to retire to the ranch any time soon.
Not any time soon.
Blue Bloods airs Fridays, 10/9c, CBS.
ALSO IN THIS ISSUE:
Sneak peek at the Breaking Bad prequel Better Call Saul
Gabrielle Union previews Being Mary Jane's crazy second season
Get to know Ioan Gruffudd, the drop-dead sexy star of Forever
Plus: The Walking Dead, Chicago Fire, Empire, NCIS: Los Angeles, How to Get Away With Murder, and more