On newsstands May 10, 2017
The Return of 'Twin Peaks'! Kyle MacLachlan and David Lynch on the Cult Series' Legacy and What Fans Can Expect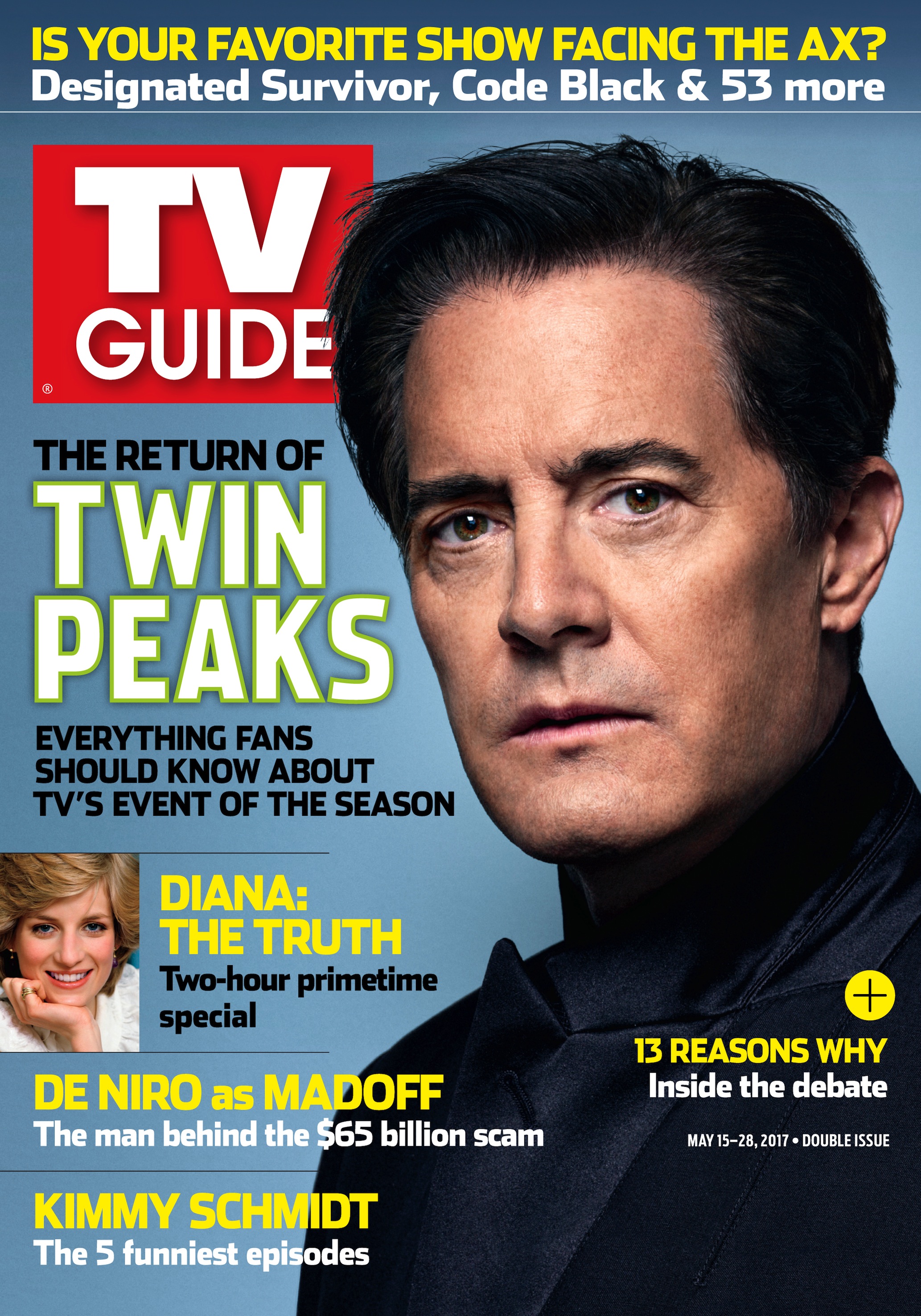 When David Lynch and Mark Frost's surreal Twin Peaks debuted on ABC in April 1990, the nascent World Wide Web was not yet a delivery service for instant feedback—or spoilers. Audiences found themselves frustrated yet intrigued with having to wait, week after week, to learn clues about the trippy show's central mystery: Who bumped off small-town bad girl Laura Palmer (played by Sheryl Lee)? But even in today's era of information overload, Showtime has unveiled only the most cryptic of teasers about the much-anticipated 18-episode revival, leaving fans waiting yet again.
Returning star Kyle MacLachlan, who revisits his lead role as unorthodox FBI special Agent Dale Cooper, also has remained mum on what Coop's beat will be. Is there a new murder? is java-loving Agent Cooper still seeing apparitions? Will anyone's deceased soul find its way into a drawer's knob? (Yes, that actually happened— along with jazzy dance breaks, soul-stealing supernatural entities in jean jackets and lots of ebullient appreciation of doughnuts and sandwiches.) "I wish I could tell you more," the actor says with a laugh. "I'm just incredibly excited about what people's response is going to be."
Here's what's known: It's now 25 years after the northwest community of Twin Peaks parsed out the demise of homecoming queen Palmer, with her last seven days rumored to provide a crucial clue to the new narrative. Lynch is directing and cowriting—with producing partner Frost—all 18 installments of the limited series. so how was it to be back in the director's chair? "Close to heaven on earth," says Lynch. "It's like a feature film divided into parts, so in order for it to hold together, it should be [made] by the same bunch."
Also in this issue:
Unbreakable Kimmy Schmidt: Ellie Kemper's chipper gal takes on higher education in the third season of the hit Netflix comedy. Also: the show's five funniest episodes!
Dirty Dancing: Get Baby out of that corner and back on screens! ABC remakes the classic 1987 film with Abigail Breslin, Colt Prattes, Debra Messing and Kate Sagal taking on the Housemans and beyond.
The Wizard of Lies: Robert De Niro and Michelle Pfeiffer lend their star power to HBO's event movie about the rise and fall of shady businessman Bernie Madoff and his scorned wife Ruth.
Live With Kelly and Ryan: Seacrest in! The popular morning show finally has a cohost in the form of a very familiar face of American Idol.
• Plus: NCIS and its harrowing season finale, Amy Brenneman talks some Leftovers, Law & Order: SVU keeps it topical in a two-part season ender, a look at which of your favorite shows may not return for the 2016-17 TV season, diving into the controversy that has emerged out of Netflix's 13 Reasons Why, and the best of movies, streaming, sports and more.