On newsstands October 25, 2017
TV's Hottest Couples: Letty and Javier of 'Good Behavior' Come Clean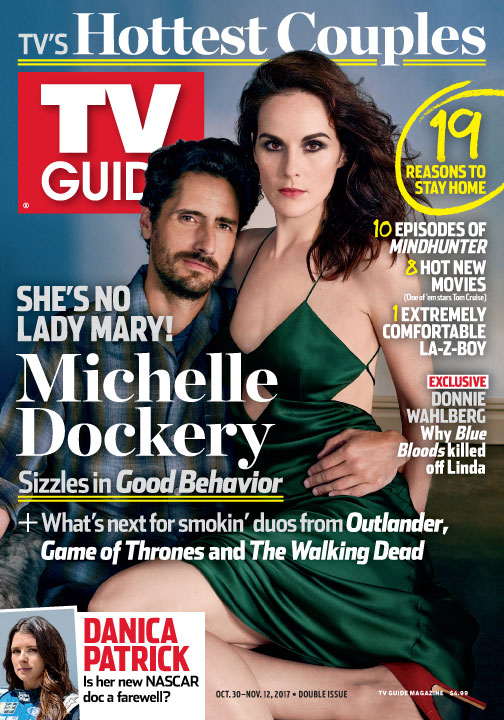 Good Behavior opened its second season with a toe-curling scene steamy enough to warrant a title change for TNT's sexy crime caper. We're thinking Smoking Hot Behavior.
There's no question the couple at the center of the lusty action—Letty Raines (Michelle Dockery) and Javier Pereira (Juan Diego Botto)—are the hottest con woman–hit man pairing in TV history. "At their first read together, the chemistry was so obvious and instant," executive producer Chad Hodge recalls. The choice to hire Botto, a little-known Madrid-based actor, was "a no-brainer," he says. Dockery, whose last role had been as Downton Abbey's decidedly more upper-crust Lady Mary, echoes that notion. "Our connection was clear as soon as Juan walked into the room."
Their characters' first encounter was not nearly as promising. Interrupted while robbing a hotel room, Letty hid in a closet and overheard Javier finalizing a deal to murder a client's no-good wife. After she tried to warn the victim, the contract killer with a conscience took Letty captive. Twists, turns and a few power struggles later, the outlaws gave into their mutual attraction.
Also in this issue:
Outlander: Time-crossed lovers Jamie and Claire set sail on an adventure at sea.
TV's Hottest Couples: This Is Us, Game of Thrones (Yep, we went there!), The Walking Dead, Riverdale and more steamy twosomes fogging up our screens.
Blue Bloods: Donnie Wahlberg opens up about why the drama killed off the show's matriarch Linda.
Shameless: Frank Gallagher, a sober man? William H. Macy explains this new turn for his Showtime character.
S.W.A.T.: Behind the scenes scoop on the high-octane stunts of CBS's big reboot.
Plus: What'll happen to HGTV after Fixer Upper ends, The Brave's Anne Heche dissects her life on TV, Matt Roush reviews Stranger Things Season 2 and the best of movies, streaming, sports and more.