On newsstands June 21, 2018
Tom Selleck Exclusive! 'Blue Bloods,' His Thoughts on the 'Magnum' Reboot and More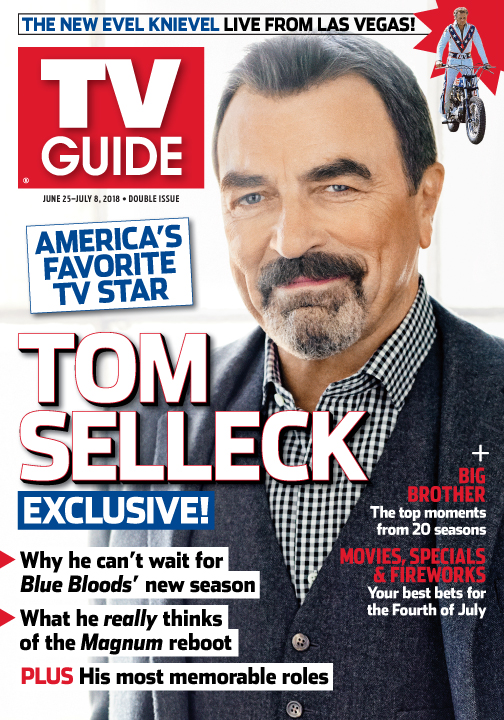 If he weren't an imposing 6-foot-4, you might almost pass the guy with the salt-and-pepper scruff wearing a checked shirt, jeans and workaday boots and not realize he's Tom Selleck, one of TV's most enduring icons.
The only celebrity tell: a vintage Rolex Daytona watch he bought himself when his current hit, Blue Bloods, tied his first, Magnum, P.I., in total episodes aired. "An acting coach I had used to say, 'You've got to celebrate your wins,'" he recalls. "This is a win."
The self-described "worker bee" is a man of many wins. Twelve days before he turned 73 this January — an age he says wife Jillie Mack Selleck had to prompt him to remember — he received a prestigious Brandon Tartikoff Legacy Award honoring his 50-year body of television work. That level of achievement must have seemed impossible back in 1970, when the handsome up-and-comer appeared in his first commercial. Selleck had no lines in the spot for Safeguard soap with Teri Garr and Penny Marshall — but he did lather up onscreen.
He also sold Pepsi, cars, and cigars, often alongside sexy actresses. As for a 1977 Close-Up toothpaste campaign, "The dialogue was humiliating!" Selleck recalls. "A stewardess comes up and I say, 'After this flying delicatessen, my fiancée may give me back the ring!' I blew on my hand, smelled my breath and said, 'I'd better brush my teeth.' I thought it was stupid, but they used me in national commercials that paid 10 grand each time they ran."
Today, Selleck has come to L.A. from his ranch an hour or two away to share his infectious passion for the medium — but before digging in, he wants to address this fall's Magnum reboot, starring Jay Hernandez and produced by Peter Lenkov, who reworked Hawaii Five-0 and MacGyver. (Selleck had tried unsuccessfully to do a movie version with writer Tom Clancy attached in the early 1990s.)
Also in this issue:
Big Brother: Revisiting the top moments from the past 20 seasons of the CBS reality hit.
July 4th Programming: Your best bets to stay cool in front of your TV on the national holiday.
The New Evel Knievel: Daredevil Travis Pastrana attempts the famed stunt performer's most terrifying motorcycle jumps on live TV.
GLOW: Netflix's series is back in the ring with fiercer fights for round two.
Sharp Objects: From the writer of Gone Girl, this dark HBO series starring Amy Adams is brimming with family drama and mystery.
Plus: A tribute to Anthony Bourdain, specs on car-related programs for gearheads, Christian Borle drops by Younger and the best of movies, streaming, sports and more.