On newsstands October 11, 2018
The Boys of 'Supernatural': The Fan Favorites Answer Your Burning Questions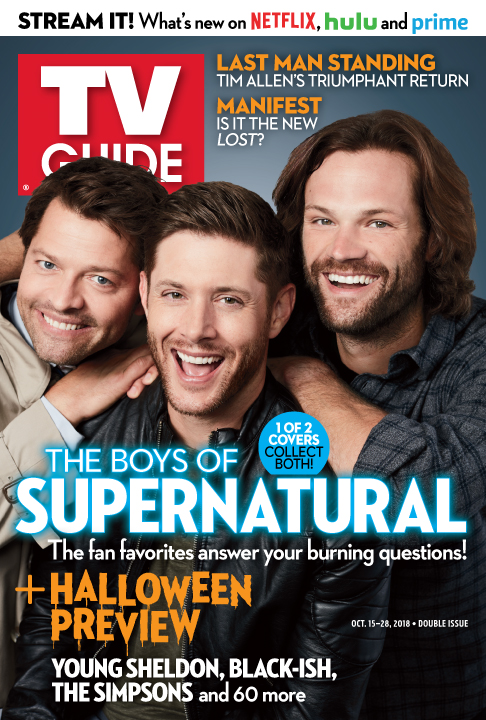 Photo by Maarten de Boeer
Despite Supernatural's gunslinging ghouls, evil archangels and multiple apocalypses, laughter is never more than a few minutes away on its Vancouver set. While shooting in mid-September in the horror show's Men of Letters bunker (the Winchesters' home base), any cast member's flubbed line sets off a torrent of quips and witty retorts.
It's this natural chemistry, first between Jensen Ackles and Jared Padalecki as demon-hunting brothers Dean and Sam Winchester, then adding in Misha Collins (their angel ally Castiel), that's helped make Supernatural the network's longest-running series — 14 seasons so far! ­— and fueled an army of passionate viewers.
After an Ackles-led private tour of the cavernous set, TV Guide Magazine sat down with the trio to talk all things Supernatural, boosted by fan questions. The mood was celebratory and, naturally, punctuated with good-natured teasing, particularly of Collins, who hadn't filmed since August 13.
"Cas has been written out," Padalecki states, straight-faced. With a resigned smile, Collins says, "I really missed you guys." A grinning Ackles responds, "I bet."
Jared and Jensen, what do you remember about your auditions?
Jared Padalecki: Everybody was reading for Sam.
Jensen Ackles: He was the pivotal character then. After I did two scenes, [executive producers] David Nutter and Eric Kripke were having a sidebar, and I interjected, "Can I just read the Dean character and see how that plays?" And they turned to me and said, "That's exactly what we were saying. You're Dean, not Sam."
Padalecki: We were already network-approved by The WB: I was on Gilmore Girls and Jensen was on Smallville, but the rumor goes that when I was floated for Sam, Kripke said, "I don't know, I'm looking for someone bookish, like [David] Duchovny." My manager was like, "Jared was a National Merit Scholar. He can pull it off." I always tease Kripke for thinking I was too dumb to play Sam.
Ackles: That's why he looked at me and said, "He's not a Sam." [Laughter]
Also in this issue:
Halloween Preview: Young Sheldon trick-or-treats; The Simpsons invite Cthulhu to their seasonal episode; black-ish hosts a haunted house; and all the movie, marathons and specials needed for a spine-chilling time.
My Dinner With Hervé: Game of Thrones' Peter Dinklage plays the famed Fantasy Island actor.
Manifest: Is it the new Lost? We're on the hunt for clues in NBC's new survivor drama.
Plus: Making a Murderer take two; the definitive British mystery list on Amazon Prime Video; comparing Dancing With the Stars to pint-sized Juniors; picking the brain of the doc who inspired New Amsterdam; Gordon Ramsay takes us inside Hell's Kitchen; Crickey! It's the Irwins premieres, and the best of movies, streaming, sports and more.