On newsstands December 15, 2016
The Best of TV 2016: The Is Us Tops the List
By TV Guide Magazine Staff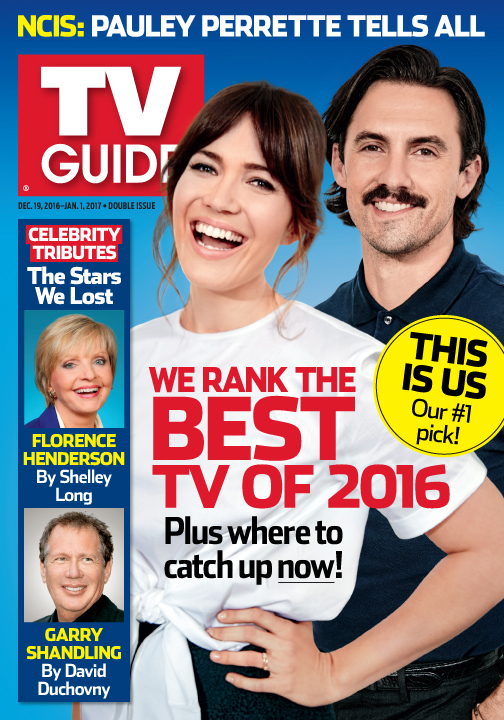 Cover photo of Mandy Moore and Milo Ventimiglia by Maarten de Boer.
Top 10? Really? Would you consider a Top 100? The quantity and quality of TV have never been greater, which made senior critic Matt Roush's job harder than ever this year. "I should note how weird it is not to include such past and current faves as Game of Thrones (if only for the epic 'Battle of the Bastards,' capping an uneven season), Veep and Mr. Robot, and terrific limited series like The Night Of and The Night Manager," Roush writes. "But the following are the top shows that truly defined TV in 2016 for me. Can't wait to see what 2017 will bring."
1. This Is Us (NBC)
This feels like a miracle: a family drama that values emotion, warmth and humor over contrived melodrama, able to make the heart soar and break, usually at the same time. This is the sort of show critics often have to plead with viewers to watch, since it lacks a criminal, legal or medical procedural hook. A rare ray of light in an industry all too eager to go dark, This Is Us is the year's most refreshingly unexpected and welcome instant success. It strikes a powerful chord with an offbeat structure that tells the affecting story of the Pearsons over two timelines: Jack (Milo Ventimiglia) and Rebecca (Mandy Moore) raise their three kids (one adopted at birth), while the adult versions of their offspring, now in their thirties, still wrestle with skeletons and secrets of the past. Manipulative? Sure. Effective? Absolutely. Each episode should come with its own box of tissues.
2. The People v. O.J. Simpson (FX) and O.J. Made in America (ESPN)
3. Crazy Ex-Girlfriend (The CW)
4. The Americans (FX)
5. Westworld (HBO)
6. The Crown (Netflix)
7. Atlanta (FX)
8. Full Frontal With Samantha Bee (TBS)
9. Stranger Things (Netflix)
10. black-ish (ABC) [along with Fresh Off the Boat, The Real O'Neals and Speechless]
Read Matt's full take here.
Also in this issue:
• The Art of the Reboot: A look at the success (mostly) of rebooted franchises (including Gilmore Girls and MacGyver), and a look ahead to 24: Legacy, Training Day and One Day at a Time.
• The Duffer Brothers: Matt and Ross Duffer, creators of the breakout Netflix hit Stranger Things, are our Producers of the Year.
• Pauley Perrette: The NCIS star on how her character, forensic scientist Abby Sciuto, has made science and math cool.
• Tributes: A heartfelt farewell to some of TV's most enduring figures, including David Duchovny's homage to Garry Shandling.
• Tony Bennett: The iconic music man celebrates his 90th birthday with an all-star concert on NBC.
• The Year in Cheers & Jeers: What ranked and what tanked on TV in 2016.
• Best of Soaps 2016: Michael Logan makes his picks for the top daytime drama performances of the year.
• Plus: The Doctor Who Christmas Special, Sherlock, The Mick, Justice League Action, New Year's Eve viewing guide and the best of movies, streaming, sports and more.