On newsstands June 2, 2016
Summer Preview: Ellen Barkin is One Fierce Mother in TNT's Animal Kingdom
By TV Guide Magazine Staff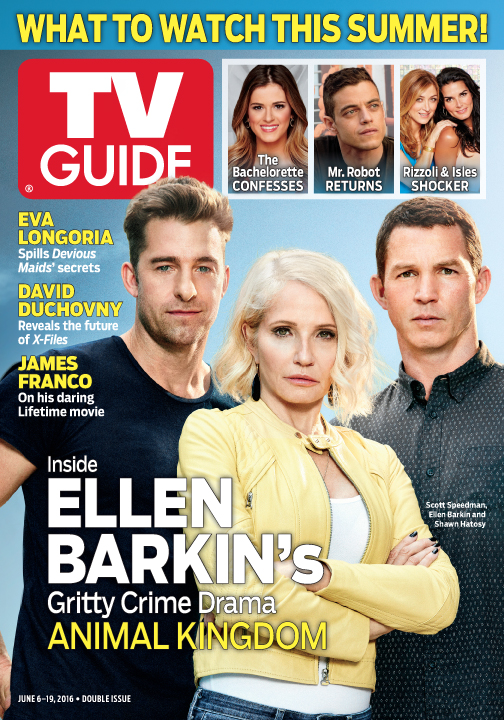 Cover photograph of Scott Speedman, Ellen Barkin and Shawn Hatosy by Steven Lippman/TNT
Welcome to the jungle! Meet the Cody family, stars of TNT's gritty new drama Animal Kingdom. Based on the 2010 Australian film of the same name, the series was developed for TNT by executive producers John Wells (Shameless) and Jonathan Lisco (Southland). The producers' first goal was to shift the focus of the source material from a caper to an in-depth character study of an extremely unconventional family. "I like a good heist movie as much as the next guy," Lisco says. "But the true DNA of this show is about a provocative, powerful and perverse matriarch who has this emotionally incestuous hold over her boys and uses her ability to manipulate them to her advantage."
That would be Janine "Smurf" Cody (Ellen Barkin), the head of the family and mastermind behind its illegal activities (jewelry store holdups are just the tip of the iceberg). Together with adopted son Baz (Scott Speedman), Smurf manipulates her sons Craig (Ben Robson) and Deran (Jake Weary) into doing her bidding while letting them indulge in booze, drugs and women. "I think she's a good mother—she's just in a very bad situation," says Barkin, who studied Jacki Weaver's Oscar-nominated performance in the original film to prepare for the series. "She is a character who maybe is capable of monstrous things, but I certainly would never call her a monster." Read the full story here.
Also in this issue:
• Summer Preview: All the scoop on new and returning shows, including Mr. Robot, The Bachelorette, Ray Donovan, Aquarius, UnReal, Feed the Beast, Dead of Summer and more.
• Mother May I Sleep With Danger?: Guest columnist James Franco writes about why he made a lesbian vampire movie for Lifetime!
• Fall TV: Senior critic Matt Roush offers his picks for the most promising new shows coming next season.
• Tony Awards: The Late Late Show's James Corden talks about hosting Broadway's biggest night.
• Plus: Rizzoli & Isles, Eva Longoria on Devious Maids, Ride With Norman Reedus, Alison Sweeney and more.