On newsstands August 16, 2017
Sneak Peek: Fox's 'The Gifted' Unveils a Whole New Mutant Tale in Their New Sci-Fi Sizzler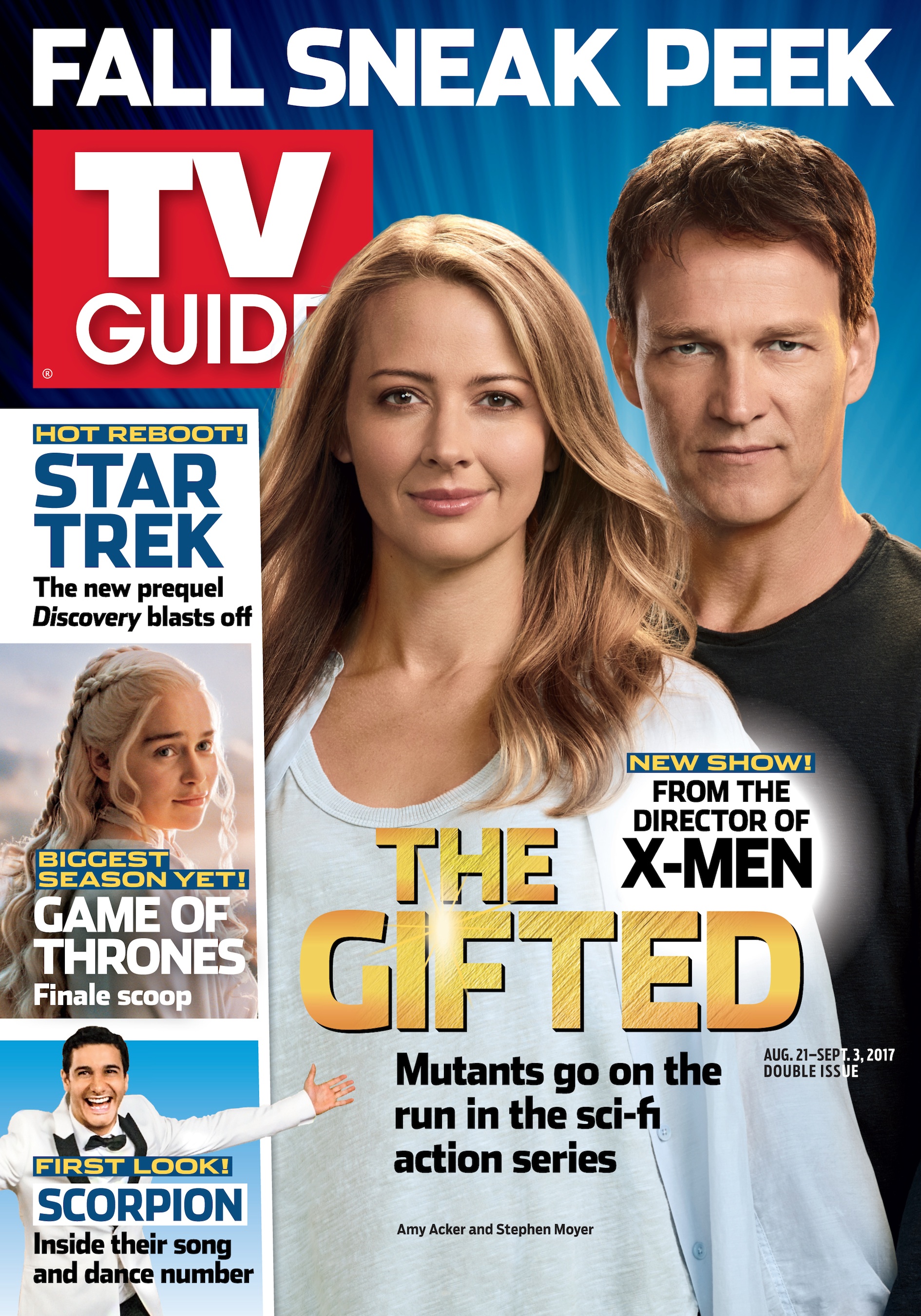 And you thought your family had drama. In Fox's new sci-fi thriller The Gifted, a seemingly ordinary clan of four, the Struckers, find themselves caught up in the saga of persecuted mutants that began 17 years ago with the first X-Men film. And director Bryan Singer, who's helmed multiple X-Men blockbusters, is part of the team helping to bring the iconic heroes to TV.
Just don't call The Gifted an "X-Men" show, says executive producer Matt Nix (Burn Notice). "The X-Men are gone, and nobody knows where they went," Nix explains of the series. "What's left behind are groups of mutants that are piecemeal, doing what they can to help [fellow mutants] on the wrong side of the law get to safety."
The Struckers fall in with these renegades after bullied teen son Andy (Percy Hynes White) develops destructive powers that go nuclear at a school dance—think Carrie with more rubble and less pig blood. The debacle forces him and gifted big sister Lauren (Natalie Alyn Lind), who can move objects with her mind, to come out as mutants to parents Reed (Stephen Moyer) and Caitlin (Amy Acker).
To escape the government's virulently antimutant laws—which would allow for agents to take Andy into custody after he used his powers—the family turns to the underground network of outlaw mutants for help. And yes, there's a twist: Reed just happens to prosecute mutants, as he works for a Texas district attorney's office.
"One of the things I really responded to in the X-Men comics is that they really seemed to be about something, more than just fighting," says Nix, a longtime fan. "The characters had relationships and humanity that went beyond hitting bad guys very hard, although," he adds with a laugh, "they did enough hitting bad guys very hard to satisfy 10-year-old me."
Also in this issue:
Game of Thrones: Take a look at some exclusive behind-the-scenes pics of the explosive, riveting seventh season.
Star Trek: Discovery: CBS All Access unveils their long-awaited prequel, all about what happened before the U.S.S. Enterprise crew hit outer space.
They're Back!: First looks at all your favorite returning shows, including Once Upon a Time's new direction, Superstore's got a new look, and Scorpion does a little song-and-dance for you this fall.
Ray Donovan: Season 5 has proven to be a jolting restart to our favorite Showtime brooder—a look at what's ahead for Liev Schreiber's grieving fixer Ray.
• Plus: Disjointed star Kathy Bates talks up having a high time in her Netflix comedy, Halt and Catch Fire has a brand-new recruit, Fargo and Legion creator Noah Hawley pays homage to Twin Peaks mastermind David Lynch, how those fancy Suits on USA's hit drama get tailor made, David Bianculli looks at how The Fugitive made TV history, and the best of movies, streaming, sports and more.