Sex, Corruption and Murder! Jennifer Lopez and Ray Liotta return for a sizzling Season 2 of 'Shades of Blue'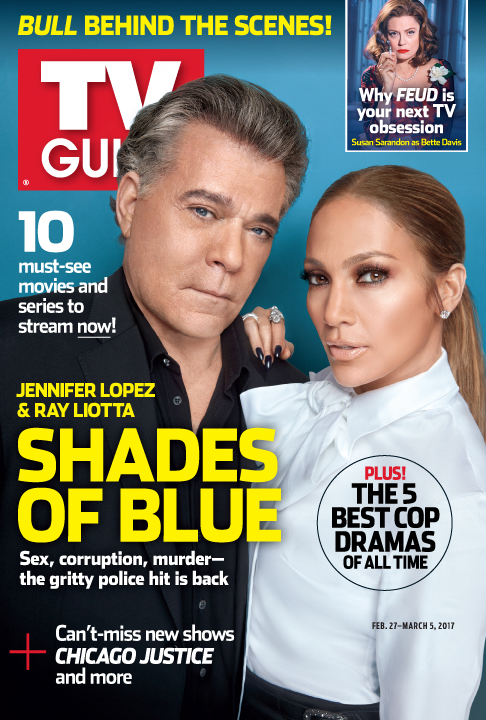 Oh, snap! Yep, that's exactly what New York City cop Harlee Santos did to her baby daddy's neck in last spring's shocking season finale of Shades of Blue. He was a brute, an abuser, a total psycho—and he definitely had it coming. But no way can she ever confess to killing him. When the hit NBC thriller returns this week, only a few moments have passed since the slaying, but Harlee (played by superstar Jennifer Lopez) is already in survival mode. Where will she stash the corpse? How will she keep her daughter from finding out? Things will take an even darker turn when Harlee buries the body in the dead of night—but not before jumping down into the grave, straddling the cadaver and smashing out the teeth with a hammer and chisel to prevent identification. Clearly, Harlee has balls to spare. Lopez? Not so much.
"I felt sick when I first read that burial scene," Lopez admits. "All I could think was, 'I can't do this! How can I possibly go there?' But that's the difference between Harlee and me. My life is crazy. Her life's insane. And she will do what it takes to make it through another day."
Viewers knew Harlee was a dirty cop from the first scene of the first episode, when rookie detective Michael Loman (Dayo Okeniyi) accidentally killed an unarmed perp during a drug raid and she taught him how to cover up the crime. Harlee is also not above planting evidence or pocketing payola. But here's the dicey conceit of the series: She's no villain. Harlee is actually a warm, caring woman who does all this to give her kid, Cristina (Sarah Jeffery), a better life. And she has the full backup of her even more crooked boss and mentor, Lt. Matt Wozniak (Ray Liotta), who loves Cristina as if she's his own child.
Read Michael Logan's full story (including the five best cop shows ever on TV) on newsstands now!
Also in this issue:
• Bull: TV Guide goes on set of the CBS drama starring Michael Weatherly, everywhere from the courtrooms to the designated punching bag area and the leisure spot known as the "Pod Room".
• When We Rise: ABC revives the multi-night miniseries format with this urgent drama chronicling the decades-long gay right movement, created by Dustin Lance Black (Milk) and featuring an all-star cast, including Guy Pearce, Mary-Louise Parker, Rachel Griffiths, and Whoopi Goldberg.
• Chicago Justice: Dick Wolf's Windy City dramas keep on comin'! We go into his Chi-town latest for NBC—a new legal thriller featuring Philip Winchester and Jon Seda, sure to please the palette of Law & Order devotees.
• Luke Perry: The Beverly Hills, 90210 heartthrob has grown up, and now he plays a papa in The CW's breakout teen sensation Riverdale. He looks back at his storied career on TV, from 90210's Dylan McKay to his, ummm, revealing turn on Oz to the sadly underseen HBO curiosity John From Cincinnati.
• Plus: A deep dive into why FX's Feud proves Ryan Murphy always hits the zeitgeist, a first look at the Bones series finale, Michael Jackson's daughter Paris makes her debut on Fox's Star, Six's technical advisor keeps his eye on the cast, and the best of movies, streaming, sports and more.