On newsstands March 15, 2018
'Roseanne': Still Fearless and Still Very, Very Funny! Plus: Spring Preview!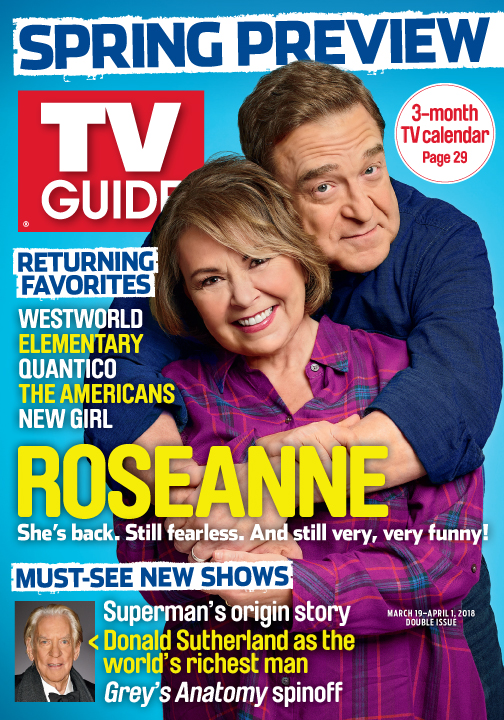 Roseanne/ABC
It's a sad truth that some reporters want the celebs they interview to like them. Others don't give a rat's rear. But all I care about on this December morning in Studio City, California, is that Roseanne Barr doesn't yell at me.
Sure, she's been perfectly civil to the press since ABC announced last spring it was reviving Roseanne, the classic "feminist working-class family sitcom" (her words) that made her famous. Still, the lady has a reputation. She's crazy! She's crabby! She's crass! Even Barr admits that, over the show's initial run (1988–97), she hired and fired at whim. She's made people much more powerful than me (i.e., ABC execs) sweat spinal fluid. She rages on Twitter. Still, I love Roseanne. So getting shade from the star would sting.
Why am I being so personal? Because Roseanne is personal, and it got personal, at a time when few comedies did. It was honest about the drudgeries faced by blue-collar Illinois high school sweethearts Dan (John Goodman) and Roseanne Conner (Barr), their children—popular blonde Becky (Lecy Goranson), sullen tomboy Darlene (Sara Gilbert) and cherub-faced D.J. (Michael Fishman)—and Roseanne's single younger sister, Jackie (Laurie Metcalf). It embraced TV taboos that even dramas feared.
Also in this issue:
Spring Preview: Donald Sutherland stars in FX's Trust, Zach Braff returns with Alex, Inc., Superman's history is told in Krypton, inside Grey's Anatomy spinoff Station 19 and Sandra Oh faces danger in Killing Eve. Plus: intel on Westworld, The Americans, Elementary, The Handmaid's Tale, New Girl and so much more!
Spring TV Calendar: a one-page rundown of all the new and returning series from the end of March through May.
Burning Questions: Yikes! What really went down on that shocking finale of The Bachelor.
Plus: Five can't-miss true-crime specials and shows, Valerie Bertinelli dishes on her Food Network show, celebrating Dallas' 40th anniversary and the best of movies, streaming, sports and more.