On newsstands September 13, 2017
'Outlander' Joins 60 Other Returning Favorites in TV Guide Magazine's Biggest Issue of 2017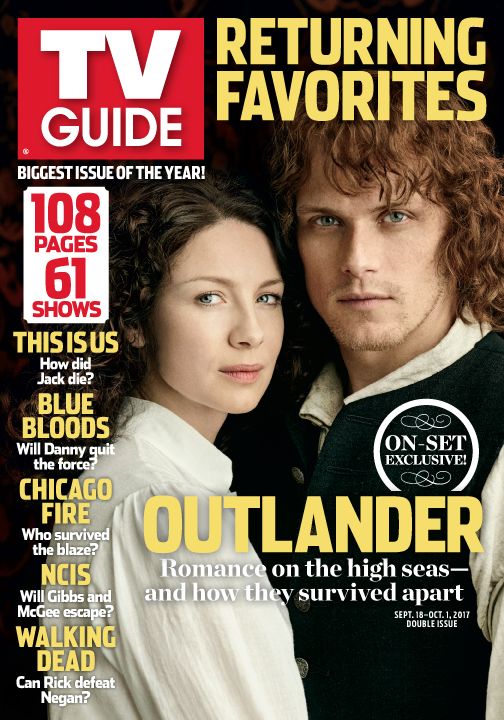 Flames leap up into the dark winter sky above a narrow cobblestone street in Old Town Edinburgh, Scotland. An out-of-breath Claire (Caitriona Balfe) and Jamie Fraser (Sam Heughan) burst through the crowd of terrified onlookers and rush toward the burning building. Yes, fans, the sexy soulmates reunite—setting off serious sparks of their own—in Season 3 of Outlander. Then, of course, they get swept right back into danger.
"Their reunion is big, but so much happens to them even before that," says a soot-smudged Heughan on set during a break in filming.
The buildup is indeed as good as the super steamy payoff. So far, the time-traveling nurse and her beloved Highland warrior have tried and failed to change history, repeatedly rescued each other from sadistic British army captain Black Jack Randall (Tobias Menzies) and left a trail of tangled bedsheets in their wake­.
This season the canvas gets even bigger. "We cover more time periods, and there's more complexity in sets, costume, hair and makeup," says executive producer Ronald D. Moore. "It has such scope and spectacle." (This from a show that in Season 2 re-created the opulent French Court at Versailles!)
The supersize production, based on the nearly 900-page third book in Diana Gabaldon's bestselling series, is why the show's devoted 5.2 million viewers had to suffer a 14-month Droughtlander. After shooting in Scotland on sets new (like the grimy Ardsmuir prison, where Jamie is held for treason) and old (Lallybroch), the cast and crew headed to South Africa for three months, using ships from former Starz series Black Sails, for the pair's stormy, game-changing journey to Jamaica.
Also in this issue:
Outlander: The Droughtlander is over! Join us for an on-set exclusive behind Season 3 of Starz's sexy sci-fi sizzler..
Television Industry Advocacy Awards: A look at the nine decorated TV stars—including Keegan-Michael Key, Regina King and Robert Herjavec—receiving top honors in 2017.
Returning Favorites: Read about dozens of your favorites and what new storylines are on tap, including Leah Remini joining her King of Queens hubby Kevin James on Kevin Can Wait, Supergirl has a new foe, NCIS's nail-biting premiere episode, Kiefer Sutherland on Season 2 of Designated Survivor, the Empire/Star crossover, the reset of The Good Place and Larry David is back to wreak more havoc on Curb Your Enthusiasm.

• Plus: Megyn Kelly opens up about her new morning show, we chat with new late-night star Jordan Klepper, how to watch the just-ended Twin Peaks in just four hours, American Horror Story: Cult's Billy Eichner shares his TV go-tos, Tom Bergeron forecasts the Dancing With the Stars Season 25 ballroom luminaries, David Bianculli weighs in on 10 years of Keeping Up With the Kardashians, and the best of movies, streaming, sports and more.