On newsstands May 10, 2018
Property Brothers: We Hit the Set for an Exclusive First Look at the New Season of 'Brother vs. Brother'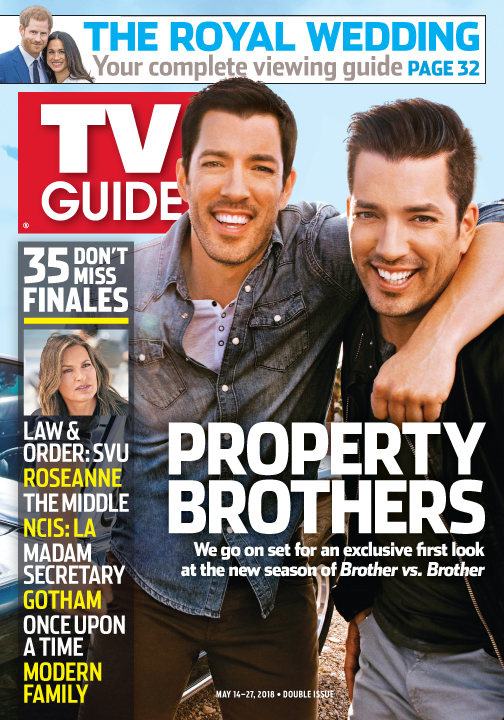 Property Brothers/HGTV
Drew and Jonathan Scott are in the middle of a fierce debate. During a break from filming Brother vs. Brother: Jonathan vs. Drew on a mid-March afternoon in San Francisco, the HGTV stars are answering TV Guide Magazine's question about whether they're the "face" of the network.
"Maybe Jonathan's the face," quips real estate agent Drew. "My good side's my butt." Without missing a beat, contractor Jonathan shoots back, "You're the butt of most of the jokes."
Since debuting on HGTV with 2011's Property Brothers — one of their five hit shows — the twins have attracted millions of fans thanks to their talent, good looks and friendly trash talk.
That ribbing continues on Season 6 of Brother vs. Brother, the competition that finds Drew and Jonathan each overhauling a house. Every episode, guest judges such as Property Virgins' Egypt Sherrod decide who tackled a particular project better, with prizes at stake (think: a private tour of Alcatraz prison).
In the end, whoever sells his pad for the most profit wins — and all the cash goes to charity. "Jonathan's been staying up till 6am planning so he doesn't lose," taunts Drew, last year's victor. The Scotts let TV Guide Magazine tag along while they worked, and treated us to a glimpse inside their revamped homes. They couldn't help but take a few digs too…
Also in this issue:
Finale Preview: Prepare for cliffhangers and tearjerkers! We bid adieu to some series for the season (Law & Order: SVU, Gotham) and some for good (The Middle, The Americans).
How to Watch the Royal Wedding: Our channel-by-channel guide to the networks covering Prince Harry and Meghan Markle's union from sunrise to sunset.
Plus: Elizabeth Vargas talks leaving 20/20, Red Nose Day celebrations, Once Upon a Time's series ender and the best of movies, streaming, sports and more.