On newsstands October 25, 2018
'Outlander' On-Set Exclusive: Claire and Jamie Build a New Home on America's Frontier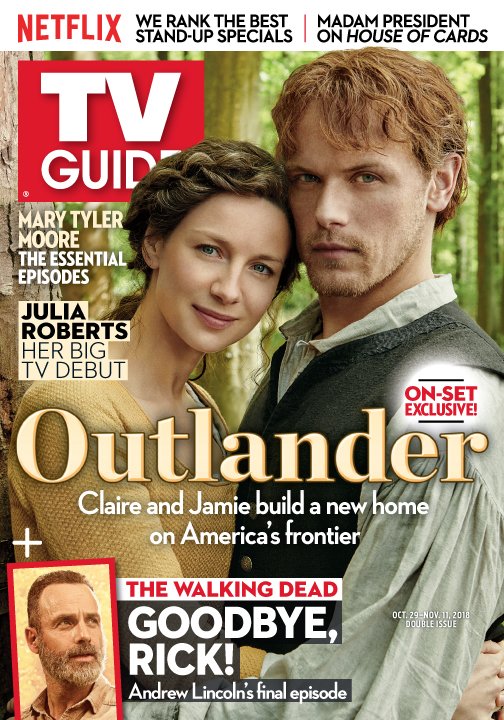 A dark Scottish forest of towering pines stands in for the untamed woods of colonial North Carolina on the set of Outlander, Starz's sexy, suspenseful time-travel romance. Huddled beside a small campfire on this chilly late-autumn night are Caitriona Balfe and Sam Heughan, who play soulmates Claire and Jamie Fraser. The bonnie pair are shooting a tender scene from the third episode of Season 4. "I want us to make a home together, a place that's ours," she says. They gaze into each other's eyes. He kisses her gently. Swoon.
"This season is about Claire and Jamie finding and building a life in America," Balfe says of the couple, who reunited in the middle of Season 3 after a two-decade separation during which Claire returned to the 20th century to give birth and raise their daughter, Brianna (Sophie Skelton). "We explore domesticity, but there's also drama — and passion," she adds during a break, her words turning to frosty clouds in the cold air. Laughing, she says, "They ain't hung up the old boots just yet!"
In fact, reaching middle age has only enhanced the couple's already scorching relationship. "It's going to be even sexier because they're in their 40s," Heughan says. "There's passion, always. They have great love, trust, understanding. And they rely on each other. America is a dangerous place."
The 13 episodes about the Frasers' new life in the New World are based on Drums of Autumn, the fourth book in Diana Gabaldon's bestselling Outlander series about an outspoken 20th-century surgeon and her honorable Scottish Highlander husband. The story picks up a few months after the Season 3 finale, when the couple left Jamaica — where they had traveled to rescue Jamie's nephew, Young Ian (John Bell) — only to see their ship go down off the Georgia coast.
Also in this issue:
House of Cards: In the political thriller's final season, President Claire Underwood takes over the Oval Office.
The Walking Dead: Bidding a tearful goodbye to Andrew Lincoln's Rick Grimes. Plus: What's next for the survivors?
New Fall TV: Hits and Misses: We examine the new series that are dominating ratings (good job, Manifest!)—and lay out the ones that might not get a Season 2.
Plus: Adam Sandler's first taped special in 22 years; Alton Brown revisits Good Eats; New York Comic Con photos; must-stream Halloween episodes; secrets behind Saturday Night Live's wigs and the best of movies, streaming, sports and more.