On newsstands September 27, 2017
Must-See TV: Our No. 1 Fall Pick 'Will & Grace' Returns to NBC After 11 Years Off the Air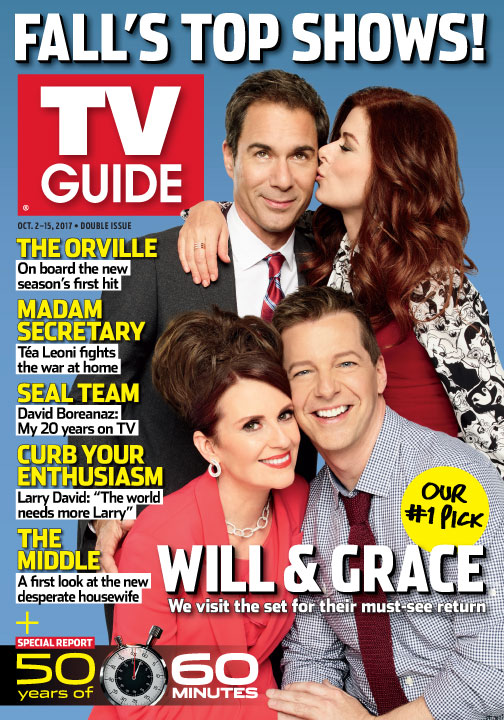 The cast of Will & Grace is downright giddy about reviving the seminal NBC sitcom. And so, it seems, is the studio audience filling Stage 22 in Burbank. "It was like Oprah!" Megan Mullally says of the first taping in 11 years. "You'd think we'd given them cars!" Eric McCormack adds.
The excitement is no surprise. Will & Grace 2.0 is easily the most hotly anticipated show on the fall schedule. So how did this dream team get back together? Last September, the cast of the Emmy-winning hit—which explored the friendship between gay lawyer Will Truman (McCormack), his straight interior designer roommate, Grace Adler (Messing), and their pals Karen Walker (Mullally) and Jack McFarland (Hayes)—reprised their roles in a video encouraging Americans to vote. The clip went viral (it currently has more than 7.5 million views on YouTube) and, according to series creators Max Mutchnick and David Kohan, the pieces fell quickly into place for a revival. "It really feels like we took a month off and then just started again," Mutchnick marvels.
But what to do about that 2006 finale in which Will and Grace became estranged for 20 years? Well, it's scrapped. "We never would have gone in that direction if we weren't ending the show," Mutchnick told critics in August. That means no time apart, no spouses and no kids. Will and Grace's apartment has had only a minor facelift, and Jack still regularly bursts in from across the hall, leaving things much the same as in the first 194 episodes (now streaming on Hulu).
Back in Burbank, the foursome are still on a high after filming their first episode, which reveals how the besties end up living together again. Messing, McCormack, Mullally and Hayes sat down to give us the scoop. Oh, honey, it's good.
Also in this issue:
The Orville: Step inside the huge ship in Seth MacFarlane's intergalactic hit.
Curb Your Enthusiasm: Larry David chats about his return to the HBO series, talking dirty and how he reacted to his show being leaked online earlier this year.
Great News: Executive producer Tina Fey joins the NBC workplace comedy for an arc as the CEO of cable news network MMN's parent company.
Plus: SEAL Team star David Boreanaz looks back on his 20 consecutive years in primetime television in our guest column, the secrets behind 60 Minutes as the series turns 50, Madam Secretary delves into Elizabeth's home life, a Real Housewives star is welcomed on The Middle, Crown Media launches a third Hallmark channel and the best of movies, streaming, sports and more.