Wednesday, February 8, 2017
Matt Lauer Celebrates 20 Years on 'Today': Exclusive interview including what's to come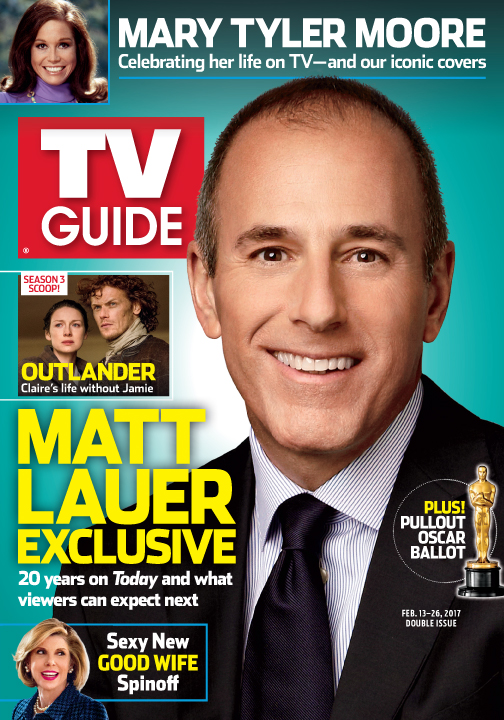 During a break between the 9am Today show sign-off and the 10am West Coast news update, Matt Lauer settles into his office in New York's Rockefeller Center, where photos of Muhammad Ali and Bruce Springsteen share space with family portraits. It's a few days after the lavish on-air toasts to the morning show's 65th anniversary and Lauer's 20th as a coanchor. That's not all there is to celebrate: Today just scored its 57th week as the No. 1 morning show among viewers 25–54 and its largest lead over Good Morning America in more than five years in that coveted demo.
As for 59-year-old Lauer, he still beams as he talks about landing his "dream job." He speaks of his team over the years as "a family," recalling the time he and Al Roker "trekked through a blizzard" to visit coanchor Katie Couric when she gave birth to her second daughter, and doing the same—minus the snow—for current cohost Savannah Guthrie. "The most surprising thing viewers don't know is how loyal a friend he is," says Roker.
Read the full story on newsstands now.
Also in this issue:
• A Farewell to Mary Tyler Moore: Our senior critic Matt Roush looks back on the iconic actress and her TV history. Plus: A look back at Moore's TV GUIDE covers.
• Big Little Lies: Reese Witherspoon, Nicole Kidman, Shailene Woodley and Laura Dern star in HBO's much-awaited series adapatation of Liane Moriarty's bestselling novel.
• Blacklist: Redemption: Everything you need to know about the Blacklist spinoff, featuring Famke Janssen as a covert boss.
• The Good Fight: Christine Baranski dishes on the sexy, long-awaited new Good Wife spinoff, the first primetime drama for streaming service CBS All Access.
• Doubt: Katherine Heigl (Grey's Anatomy) returns to TV drama, in a new legal show costarring Orange is the New Black's Laverne Cox.
• Plus: The Detour plans a new move, Matthew Rhys puts in a memorable guest-starring bid on Girls, black-ish scene stealer Miles Brown, Lifetime offers up a Britney Spears biopic, the Spectra clan returns to The Bold and the Beautiful, NASCAR's comeback and the best of movies, streaming, sports and more.