On newsstands June 16, 2016
Why Late Night's Seth Meyers is the Man of the Late Hour
By TV Guide Magazine Staff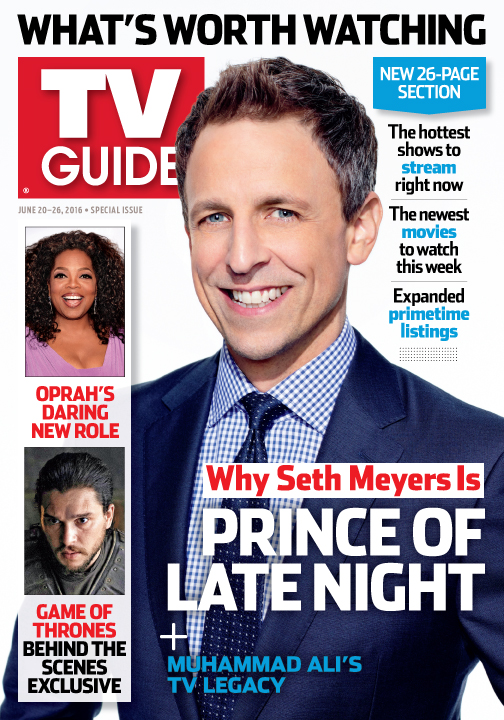 Cover photograph of Seth Meyers by Lloyd Bishop/NBC for TV Guide Magazine
If late-night TV were like high school, Seth Meyers would totally be voted Most Likely to Succeed. The brainy 42-year-old has spent the last two years injecting sharply observed political and social commentary into the comedy DNA of NBC's Late Night With Seth Meyers, earning critical raves and ratings along the way. (No Carpool Karaoke needed here: The talk show is the No. 1 program in its timeslot, in both total viewers and adults 18–49.) "I wanted to combine smart and silly—to  create a place for both," says Meyers, who took over Late Night from Jimmy Fallon in February 2014. "Even at SNL, we tried to be the smart take on dumb. I want to do things that are fully inspired by whimsy and lunacy as opposed to just trenchant social observation." Read more of our candid conversation with Meyers here.
Also in this issue:
• Emmy Awards: Senior critic Matt Roush on the breakout shows and stars who deserve a spot on the ballot.
• Greenleaf: OWN launches a sudsy new drama set behind the scenes of an African-American megachurch. The plot is so juicy, Oprah Winfrey joined the cast.
• Game of Thrones: Exclusive behind-the-scenes photos from Season 6 of the HBO mega-hit.
• Brooke Shields: The pop-culture icon opens up about her Flower Shop Mystery movies and the challenges of taking on an executive producer role.
• The Last Ship: Our report from the set as the TNT thriller sets sail on Season 3.
• Adventures in Babysitting: Disney Channel's 100th original movie updates the 1980s classic.
• Jerry O'Connell: With a new gig on Mistresses, the boyish actor looks back on some of his greatest hits—and a couple of amusing misses.
• Plus: Roadies, American Gothic, Pretty Little Liars, Person of Interest, Queen of the South, General Hospital and the best of movies, streaming, sports and more.