On newsstands November 8, 2018
'Last Man Standing': We Pull Back the Curtain on the Sitcom's Winning Return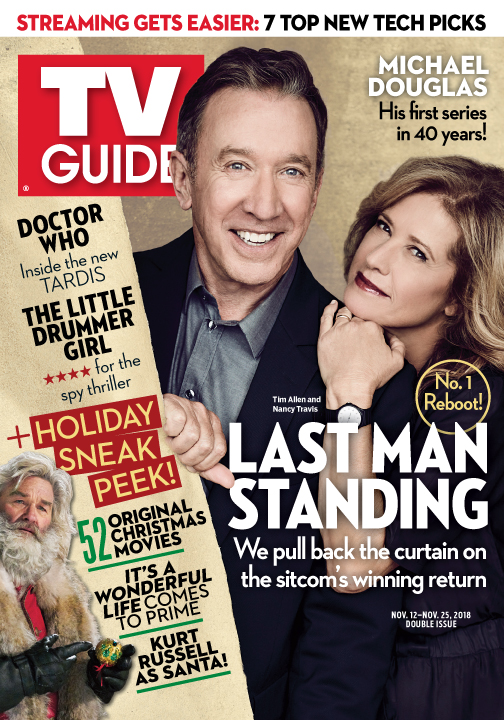 Last Man Standing / Fox
Tim Allen and Nancy Travis are enjoying a second honeymoon of sorts. The actors star as Mike and Vanessa Baxter on Last Man Standing, the family comedy canceled by ABC in 2017 and successfully revived on Fox in September (the premiere drew 8 million viewers, and all season the show has been the top Friday series for viewers age 18–49).
Together the couple are raising their family — three grown daughters and one grandson — while dealing with work, marriage and differing perspectives.
Last Man Standing's cast and crew are in buoyant moods on the Los Angeles set in mid-October, with production of lucky Season 7 in full swing. Almost all of the original team from both in front of and behind the camera is back, and the show films on the same soundstage as before — it feels like a family gathering even when you step beyond the stage lights illuminating the Baxter living room.
Allen and Travis are shooting a scene for the November 16 episode in which Mike and Vanessa have a serious talk with middle daughter Mandy (Molly McCook), a fashion designer who's thinking of ditching stitching for real estate after a setback. Mandy and her goofy, good-natured husband, Kyle (Cristoph Sanders), are still living at home, so their decisions have a major impact on Mom and Dad.
The rest of the children may be out of the house, but they are very much in the picture. Air Force Academy cadet Eve (Kaitlyn Dever) visits often. Eldest Kristin (Amanda Fuller), who works with her dad at the sporting goods store Outdoor Man, and her liberal husband, Ryan (Jordan Masterson), watch their young son Boyd's (Jet Jurgensmeyer) relationship with Grandpa Mike blossom. Later this season, the three guys go on what Allen calls a "wonderful" road trip.
Also in this issue:
Doctor Who: The timey-wimey series' new production designer walks us through his inspired revamp of the TARDIS.
The Little Drummer Girl: Mind games and romance spark a thrilling spy adventure.
Plus: Your complete guide to 52 new holiday original movies; Kurt Russell flies into the holidays as Saint Nick; Michael Douglas previews his new comedy; Dr. Oz gives his take on medical marijuana and scripted TV; Connie Britton stars in Dirty John; and the best of movies, streaming, sports and more.