On newsstands June 7, 2018
Kevin Costner: The Star Rides Again in the New Modern-Day Western 'Yellowstone'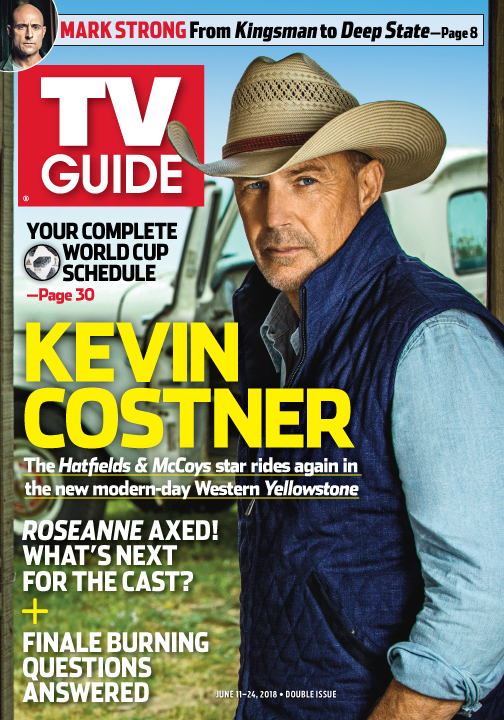 Kevin Costner is about to cowboy up — yet again — for Yellowstone, a big-budget drama about bloody land battles and backstabbing sibling rivals in the present-day, fast-changing new American West.
The leading man and Oscar-winning director of Dances With Wolves and Emmy-winning star of Hatfields & McCoys lassos his first regular series role as proud, stubborn widower John Dutton, a sixth-generation cattleman and billionaire. He has four adult children who get along like a herd of wild stallions and a Montana ranch the size of Rhode Island that's about to become a war zone.
"It's an R-rated Bonanza," says series creator, writer and director Taylor Sheridan, whose films Wind River, Hell or High Water and Sicario also grapple with the human toll of clashes over physical and cultural borders. "It's like [classic Western director] John Ford came back from the dead and decided to make a TV show."
Also in this issue:
Finale Burning Questions Answered: From The Blacklist's fiery coda to that Killing Eve shocker, we examine five of our favorite season enders.
Shades of Blue: Jennifer Lopez shares intel on the final round of the NBC cop drama.
Denis Leary: The Animal Kingdom actor looks back at his career highlights — Remote Control, firehouse drama Rescue Me and more.
Plus: A guide to the World Cup, how to stream TV and movies for free, why we love The Great British Baking Show and the best of movies, streaming, sports and more.