On newsstands August 2, 2017
Kelsey Grammer and Matt Bomer Add Star Power to Amazon's New Drama 'The Last Tycoon'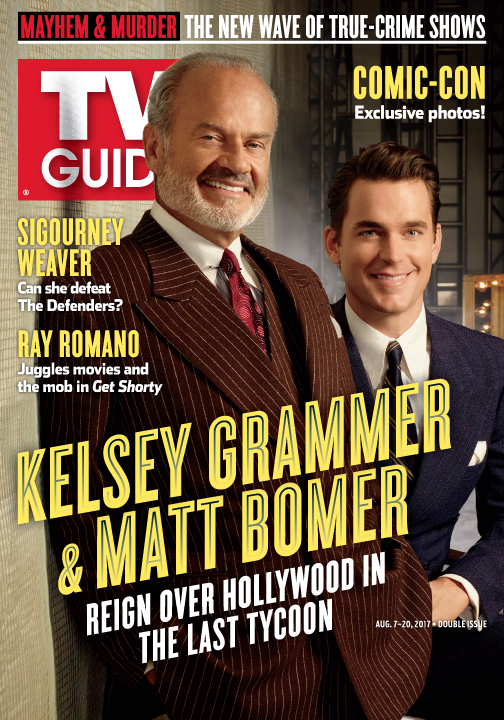 Champagne is flowing and music is jiving as women in silky vintage gowns chat up men in dapper, broad-shouldered tuxedoes on the set of The Last Tycoon. Until, that is, the band quiets and all eyes shift to powerful film exec Pat Brady (Kelsey Grammer), who slowly raises his glass for a toast.
The cause for this soiree, shot at historic Greystone Mansion in Beverly Hills, plays a key part in Amazon's new drama, which explores the inner workings of a Hollywood movie studio in the 1930s. (Spoiler alert! It isn't so different from today.) The lush series pulls back the shiny veneer of La La Land and focuses on relationships between top dog Brady and hotshot studio producers like Monroe Stahr (Matt Bomer), as well as starry-eyed actresses who dream of becoming the next Jean Harlow.
When Amazon streamed a preview of the Tycoon pilot last year—as the company does with all potential series to get viewer feedback—votes poured in. "Not only did our customers respond strongly to the show," says Marc Resteghini, Amazon Studios' senior development executive, drama, "but we were excited about the opportunity to work with these amazing creators and cast."
Based on the unfinished final novel of the same name by F. Scott Fitzgerald and created by writer-director Billy Ray (The Hunger Games), The Last Tycoon features five-time Emmy winner Grammer in his first regular TV drama since Starz's Boss ended in 2012. Tackling the part appealed to the actor because it takes him places he hadn't gone in Cheers, Frasier or Boss. "I'm not sure I've had as complex and fully committed a character to play before," he says. "Pat is surprised by his own emotions, which sneak up on him."
Bomer was beyond excited to be working with the television vet. "I feel like I know him, because he's been in my living room my entire life," he says. "I really look to him as a mentor in many ways."
Also in this issue:
Comic-Con Gone Wild!: TV Guide Magazine was on the scene for the beloved San Diego perennial, with news about Stranger Things, Lucifer, Supernatural, Star Trek: Discovery and many more.
Suits: Go behind the scenes of the USA hit with Harvey, Mike and the gang.
Difficult People: New cast member John Cho takes us through his varied and surprising TV career.
Sigourney Weaver: The Alien legend stars in the new Netflix actioner Marvel's The Defenders.
• Plus: David Bianculli on stumping for the classics and how they've been neglected, Penn Gillette pens a guest column on why he believes in all things magic, the technical advisor on Shooter reveals secrets on training the actors, behind TV's latest onslaught of true crime tales, Matt Roush reviews Mr. Mercedes, Netflix's Atypical, and the best of movies, streaming, sports and more.