On newsstands November 22, 2017
Holiday Preview: Get Holly Jolly With Michael Weatherly's 'Bull'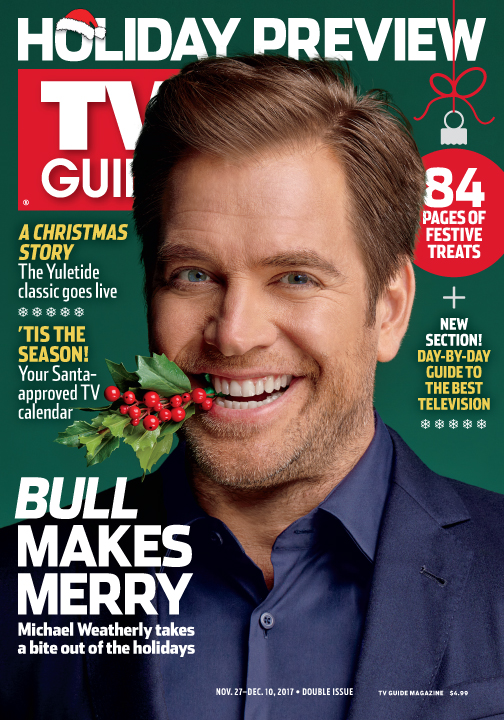 Michael Weatherly looks ridiculous. The Bull star just emerged from the dressing room at his 12th TV Guide Magazine cover shoot wear­ing a brown tweed sport coat over a maroon turtleneck and matching slacks. It's an outfit best described as "1960s dad"—and it's tight in all the wrong places. He couldn't ­appear less sexy or more undignified, but it's hard to tell if he cares. That's the amazing, terrific thing about Weatherly: He probably doesn't. He's game. He doesn't complain. He laughs off mistakes. He makes other people feel good. If it seems naive of us to dismiss this as an act, then so be it. Maybe we're just in the holiday spirit.
Later, the photographer's assistants give him candy canes to put in his mouth like cigars, tie a gold ribbon around his neck and wrap him in a string of twinkling holiday lights. Again, he's game. He's also pretty thankful. The 49-year-old actor, who starred as NCIS's jokey Special Agent Anthony DiNozzo from 2003 to 2016, is married and has three healthy kids. His CBS drama Bull—on which he plays a trial consultant—is still a hit in Season 2. And he's got a new partner in showrunner Glenn Gordon Caron (Moonlighting), who's made the procedural darker and more substantial. Goodbye, silly plots featuring poisonous dresses; hello, storylines about fatal frat hazing and assisted suicide. The December 12 holiday episode is no different, focusing on a 9-year-old girl (Annabelle Wachtel) who wants to sue her negligent parents for divorce.
Recovering in a bar after the four-hour shoot, Weatherly excitedly talks about the show—and life. Can things get any better? Well, he is spending his holidays in Jamaica, so…
Also in this issue:
Holiday Preview: A Christmas Story Live! scoop, festive episodes of The Middle, Great News, Hawaii Five-0 and more!
Holiday TV Calendar: From White Christmas to Hallmark Channel's latest originals, we've got you covered with this two-page calendar.
Plus: An expanded What's Worth Watching section, the verdict on Amazon's latest batch of pilots, the dos and don'ts of spinoffs and the best of movies, streaming, sports and more.