On newsstands December 1, 2016
Fuller House: TV's Most Popular Family Returns for a Holly, Jolly Season 2
By TV Guide Magazine Staff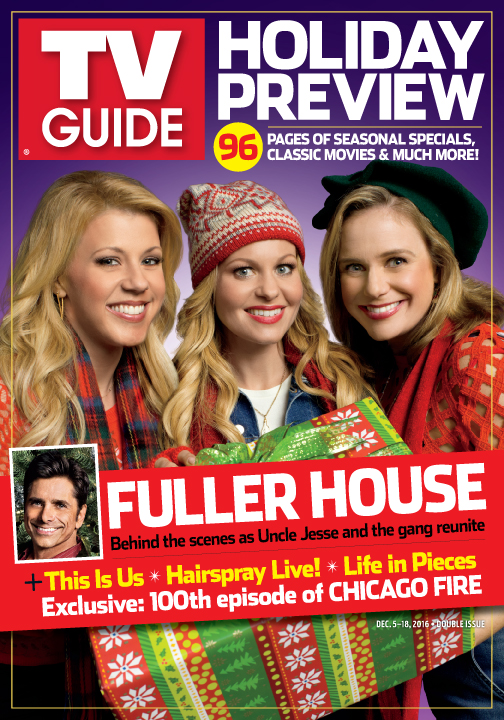 Cover photo of Jodie Sweetin, Candace Cameron-Bure and Andrea Barber by Robert Trachtenberg/Netflix
Elias Harger, who plays Max—middle son of Candace Cameron Bure's widowed veterinarian, D.J.—on Netflix's Full House spinoff, Fuller House, is 9 years old. He weighs less than 80 pounds. He dances between takes. He looks super cute clad in red plaid pajamas for the show's new Yuletide episode. But don't let that sweetness fool you. Harger and the Fuller House gang may be all big toothy grins and geeky Christmas sweaters. And they may hug on screen…a lot. But they are fighting tough—and winning.
The classic redux drew enough buzz in Season 1 to joust with Game of Thrones as one of TV's most popular shows among viewers 18 to 49. Now the sitcom is back with TV's version of heavy artillery: a 13-episode season with four holiday-themed installments, guest stars galore and plenty of romance—setting up at least two surprising couples. Plus, there are several new characters and the first reunion of the Full and Fuller House casts (minus originals Mary-Kate and Ashley Olsen) since the spinoff's pilot. As Max would say, "Holy Chalupas!" The group hugs can be seen from outer space. Read the full story here.
Also in this issue:
• Holiday Preview: Your guide to the season's merriest episodes and specials, including This Is Us, The Goldbergs and Brooklyn Nine-Nine.
• Hairspray Live!: Behind-the-scenes as the cast of NBC's next live musical—including Harvey Fierstein, Jennifer Hudson, Derek Hough and newcomer Maddie Baillio—gets ready to say good morning, Baltimore.
• Chicago Fire: The Firehouse 51 crew celebrates their 100th episode.
• Life in Pieces: Colin Hanks on playing a dad on the CBS sitcom, becoming a director and what he's learned from his famous father.
• Holiday Gift Guide: Finding the perfect present for the TV fan on your list.
• Plus: Timeless, Lethal Weapon, Criminal Minds, Star, the return of America's Next Top Model, The Hollow Crown: The War of the Roses, The Bold and the Beautiful and the best of movies, streaming, sports and more.