On newsstands October 11, 2017
From 'Sisters' to 'CSI: NY' — Sela Ward Returns to TV With Epix's 'Graves'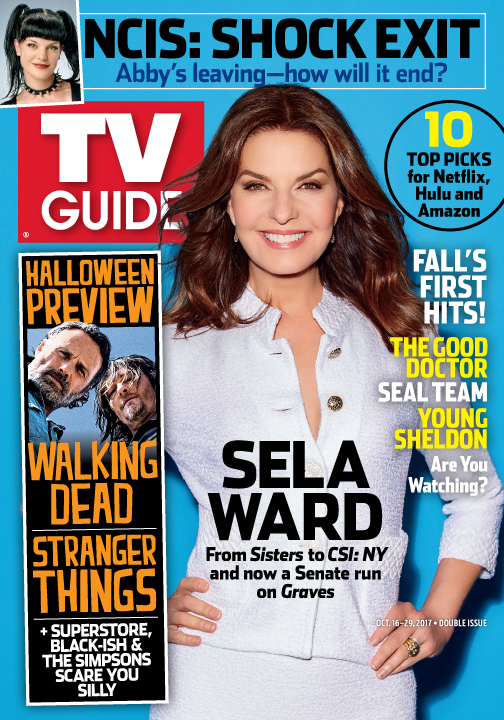 On a soundstage in Albuquerque, Sela Ward is lying in bed with costar Nick Nolte as they shoot an emotional moment for the second season of Epix's political dramedy Graves. In the scene, Ward's Margaret Graves—usually a rock for her husband, former President Richard Graves (Nolte)—is in need of support while she juggles running for Senate and a brewing scandal that could destroy her family. Can her husband deliver?
One thing we do know: Ward can deliver. The actress stepped into the role of the dutiful first lady when Academy Award winner Susan Sarandon left the politically charged series early on due to artistic differences. "I had four days to prep before I started!" Ward recalls. Nolte, though, had no concerns about his new TV wife. "I knew right away that they had cast the right person," he says. "She is a formidable actor and human being. She keeps me from getting into trouble, or at least she tries to!"
Creator Joshua Michael Stern agrees. "The show wouldn't be anything close to what it is without her," he says. "Sela is really the light and heart and soul of Graves." That's evident on set when, during a break in filming, the cast and crew surprise the 61-year-old actress with a cake and a rousing rendition of "Happy Birthday."
The moment of levity is much needed, because things in Season 2 of Graves get, well, grave. Ward fills us in.
Also in this issue:
Halloween Preview: See your favorite series dressing up, trick-or-treating and conjuring up some spooks. Includes: black-ish, MacGyver, The Simpsons and Superstore.
The Walking Dead: The gang prepares for a major face-off against Negan when Season 8 premieres.
Stranger Things: The boys are back… but where's Eleven? Everything you need to know about the new season of Netflix's buzzy hit.
Plus: NCIS star Pauley Perrette makes her shocking exit after 15 seasons, this fall's breakout winners and losers, This Is Us executive producer Ken Olin pens a guest column about making TV viewers reach for the tissue box, scoop on Outlander's steamy reunion and the best of movies, streaming, sports and more.