On newsstands August 16, 2018
Fall Sneak Peek: TV's New Secret Agent Man, 'Jack Ryan'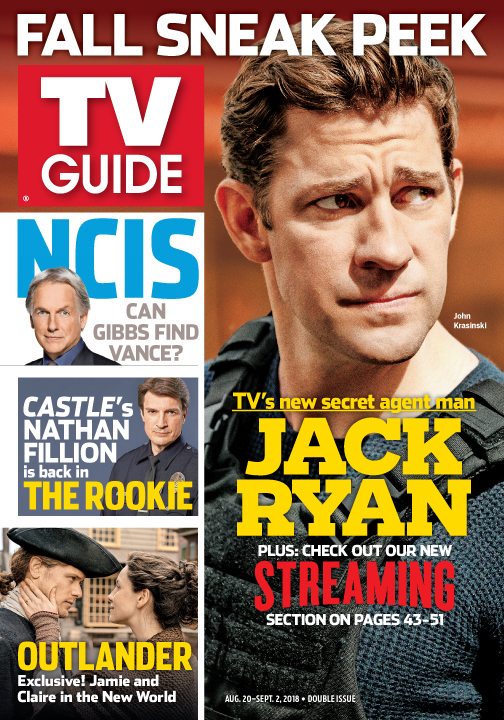 John Krasinski is as smooth as a stirred martini when asked about following in the footsteps of Alec Baldwin, Harrison Ford, Ben Affleck and Chris Pine as true-blue CIA hero Jack Ryan in Tom Clancy's Jack Ryan. "What? There have been other people who played the role?" he jokes with mock innocence of the part that originated in a series of books written by Tom Clancy.
But Krasinski is the first to portray the character on TV. The actor, who starred on The Office for nine years before focusing on movies, most recently the hit The Quiet Place, was all in for returning to television.
"When the showrunners [Carlton Cuse and Graham Roland] told me that a series was the only way to really investigate the richness and the detail Tom Clancy wrote with, I thought, 'That's a really smart and cool take,'" he says. Krasinski credits his role as a former Navy SEAL in the 2016 film 13 Hours for giving him the confidence to play an action hero — and he was more than game to run, shoot and land punches again. "I thought it was alluring to be able to play in that physical world a little longer."
Also in this issue:
Fall Sneak Peek: First looks at new (The Rookie! The Good Cop!) and returning (Outlander! NCIS!) series.
Stream It!: Netflix's sci-fi mystery The Innocents; Rosanna Arquette on her sexy YouTube Premium series Sideswiped; CBS All Access's new drama One Dollar and more.
Plus: Star Trek news, Lethal Weapon's new recruit Seann William Scott, a chat with Betty White, Fear the Walking Dead's Maggie Grace and the best of movies, streaming, sports and more.