On newsstands August 30, 2018
Fall Preview 2018: Your Complete Guide to Every New Show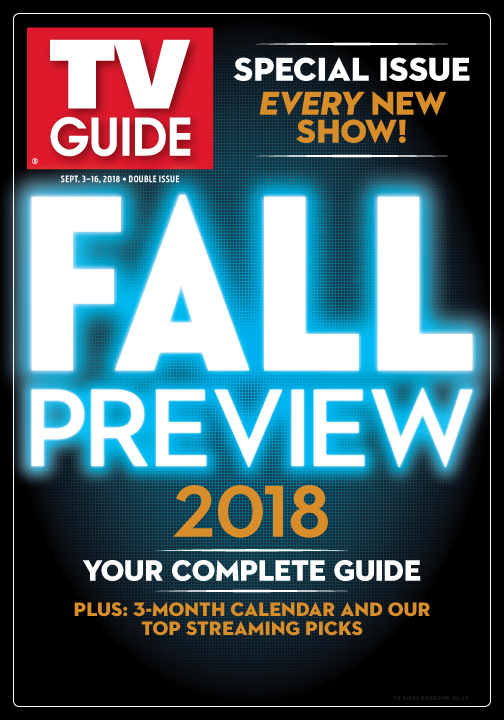 No medium has changed more in recent years than television. How we watch: streaming, downloads, the almighty binge. Where we watch: Hello, bottomless pool of Netflix! Even when we watch, with rarely a break between so-called seasons in a nonstop and overwhelming flow of programming.
But as we assess, in our yearly tradition, a heaping new lineup of fall TV, what hasn't changed is why we watch: The shows that matter are the ones that make us care. Echoing the breakout series from the past two years — NBC's This Is Us and ABC's The Good Doctor — the most promising provide strong emotional hooks, in a variety of genres, to help cut through TV's clutter.
Even comedies can give you a lump in the throat. You'll have to wait until November for my favorite, Netflix's The Kominsky Method, but it's worth it. This marvelously melancholy meditation on aging, from The Big Bang Theory's Chuck Lorre (a personal best), stars Michael Douglas and Alan Arkin in top form as an acting teacher and legendary Hollywood agent who've both seen better days. As these endearing curmudgeons endure loss and life's humiliating aches and pains, you may not know whether to laugh or cry. (Both responses are acceptable.)
Same goes for Amazon Prime Video's entrancing romantic comedy Forever, starring Saturday Night Live veterans Maya Rudolph and Fred Armisen in a uniquely affecting exploration of love over the very long haul. To say more would give too much away, but I devoured the entire season in a state of dazed bliss. I wish I were as attached to Jim Carrey's creepily depressed kiddie host from Showtime's Kidding or Jennifer Garner's uptight wife in HBO's off-putting Camping. They and their shows are more unpleasant than amusing.
High-concept dramas with sci-fi leanings also aim for the emotional jugular. NBC's intriguing Manifest is built around one of those cosmic mysteries you worry will never pay off — what happened to a flight that vanished for five and a half years before landing? — but it's just as compellingly invested in the impact on the lives forever changed by this weird phenom. Even better is Hulu's The First, starring an excellent Sean Penn. Grounded in realism, the eight-parter tells of preparations for a manned mission to Mars that's clouded by tragedy and complicated by all-too-human conflict.
In this issue:
Reboots and More: Magnum P.I. behind the scenes; Murphy Brown's leading lady.
Fish Out of Water: Nathan Fillion briefs us on The Rookie; why you should watch Rel.
Workplace Dramas: Dick Wolf's FBI; Tony Danza and Josh Groban talk The Good Cop.
Ensembles: Meet the pals from A Million Little Things; All American's football players; The Cool Kids' retirees; and comedy Single Parents.
Bad Romance: Thriller The Little Drummer Girl; Bravo's Dirty John.
Family Fun: Roseanne's legacy continues with The Conners; NBC's I Feel Bad.
Strange and Unexplained: Analyzing three scary streamers.
Plus: The year in review, a primetime network schedule and new series calendar, NFL preview, and the best of movies, streaming, sports and more.