On newsstands April 26, 2018
EXCLUSIVE: 'NCIS' Star Pauley Perrette Opens Up About Leaving Gibbs & Co.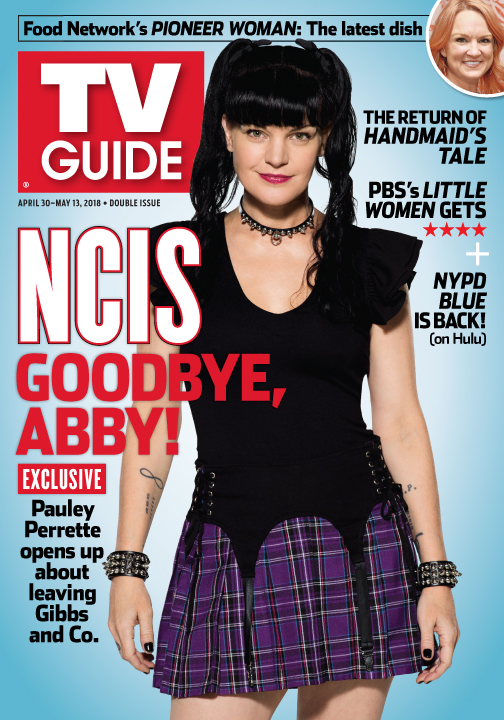 NCIS/Pauley Perrette
The Average American spends roughly four years at a single job. Take one look at NCIS's Pauley Perrette and you can be pretty sure she's not the average American. Not many women style their dyed raven hair in the pigtails and bangs she wears onscreen as forensic specialist Abby Sciuto (not to mention offscreen when the Los Angeles weather is hot and sticky).
Perrette's 15 seasons on NCIS make Abby the longest-working forensic expert on TV and the third-longest-serving female law enforcer on primetime (behind the Law & Order franchise's Mariska Hargitay and S. Epatha Merkerson). For nearly a decade, Perrette has scored the highest Q rating—a metric that measures a celebrity's appeal—of any TV actress. In 2010, she ranked as high as Tom Hanks and Morgan Freeman. "We should all do a film together," she joked at the time, "or at least get a beer."
The point is, rather than jump ship (or, really, show) after a few seasons or a little bit of fame, Perrette stuck around. A lot of that had to do with her dedication to Abby, a character conceived by NCIS creator Donald Bellisario to A) demonstrate that women can excel at math, science and computers and handle themselves around dead bodies and B) challenge the stereotype that all tattooed goth girls dressed in black are bitchy, needle-marked perps. Abby is proper nice.
Since taking on the role, Perrette has received thousands of fan letters and Twitter messages from the young ladies she inspires. Which is one of the reasons, the actress says, it's going to be hard to say goodbye—and why she's already set up scholarship funds for women studying forensic science at Georgia's Valdosta State University (her alma mater) and New York's John Jay College of Criminal Justice.
Also in this issue:
The Pioneer Woman: Five things to know about Food Network's Ree Drummond.
The Handmaid's Tale: June's mysterious journey, and the revolt, continues in Season 2 of the Hulu series.
Dancing With the Stars: Athletes: Former pro Louis Van Amstel picks his best ballroom-dancing bets for the condensed season.
Chicago Fire: The mercury rises when Severide's ex visits on the NBC drama.
Plus: Antonio Banderas on bringing Pablo Picasso to life in Genius's second round, Benedict Cumberbatch's Patrick Melrose, Michael Weatherly talks Bull and the best of movies, streaming, sports and more.