On newsstands December 20, 2017
Can They Solve the Biggest Mystery of Their Lives? 'The X-Files' Returns With Season 11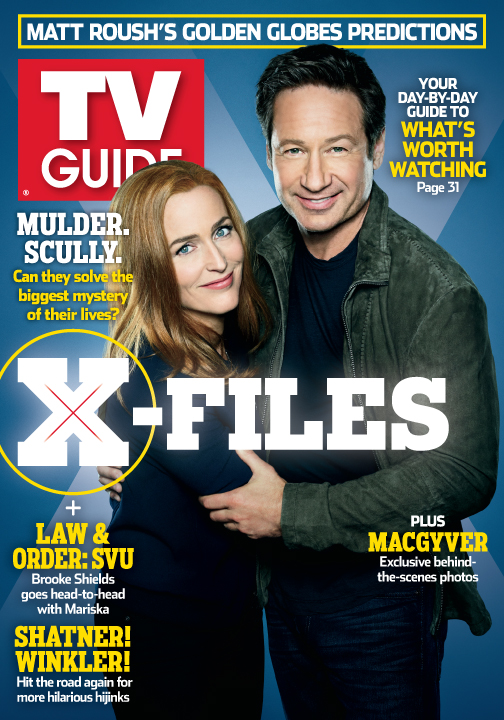 It's a calm October day in Vancouver, but things are about to get wild on the set of The X-Files. In a particularly tense scene filming today, skeptical federal agent Dana Scully (Gillian Anderson) is explaining her hunch about a hard-to-crack case to partner Fox Mulder (David Duchovny), the iconic "I Want to Believe" poster hanging behind him. She suggests investigating a key location for a vital clue. Duchovny takes a long pause, goes off script and exclaims, "OMG!"
Fans are going to have the same reaction when the groundbreaking sci-fi series returns for Season 11. Expect deadly doppelgängers, a twisted exploration of potential life after death and the resolution to a shocking cliffhanger. When we last left off, Mulder was near death thanks to a widespread contagion that threatened humankind. The immune Scully quickly developed a vaccine, but it wasn't enough to save her deteriorating partner. Could using stem cells from William, the son she gave up for adoption 14 years earlier, be the key to curing Mulder? And will they find out before that apparent UFO hovering above gets to them?
Also in this issue:
Matt Roush's Golden Globe Predictions: Our senior critic on his top picks, the close calls and more.
Law & Order: SVU: Pals Brooke Shields and Mariska Hargitay on finally getting to work together and what goes down in SVU's midseason premiere.
Better Late Than Never: Henry Winkler and William Shatner expose their taste buds — and their bodies! — to new experiences in Season 2.
MacGyver: Crazy explosions and wild stunts make for an exciting day on the set of CBS's action hit.
Plus: New section "Stuff We Love," the greatest moments of the Golden Globes, celebrating the 70th anniversary of Howdy Doody and the best of movies, streaming, sports and more.