On newsstands June 7, 2017
Ashton Kutcher is Back on 'The Ranch'! Plus, Everything You Need to Know About New and Returning Summer Streaming Series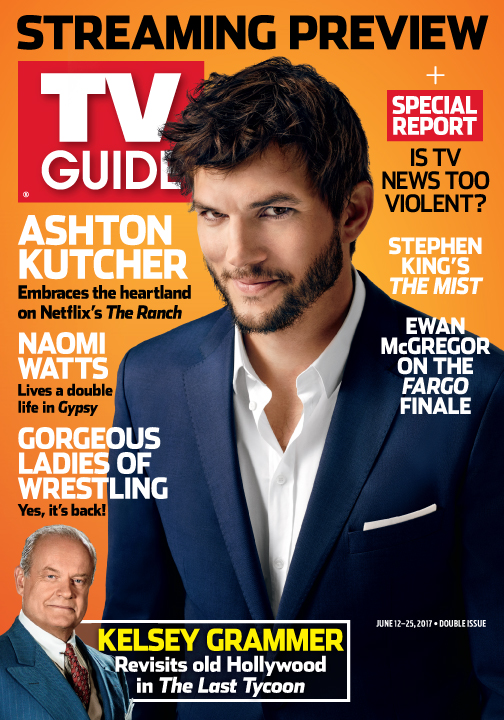 Colorado's Bennett brothers—comprised of ex-football star Colt (Ashton Kutcher) and semi-screwup Rooster (Danny Masterson)— were grappling with a whole new herd of issues (pun intended) when we last saw them in Netflix's The Ranch. Colt's plan to propose to high school sweetheart Abby (Elisha Cuthbert) was derailed by the fallout from a one-night stand; Rooster had abandoned the family's failing farm for a more corporate outlet elsewhere; and their parents, Beau and Maggie (Sam Elliott and Debra Winger), had finally, painfully signed their divorce papers after a valiant attempt to mend fences.
Not exactly typical sitcom fare, but The Ranch is not a typical sitcom. With salty language abounding and the show shot in multicamera format before a studio audience, it is more like the sister-wife to Netflix's socially-up-to-speed, Norman Lear–produced One Day at a Time reboot. What results is an oddly endearing hybrid of broad comedy and tense family drama that doesn't telegraph its laughs as much as mine them from the characters' many flaws.
But at its heart, the show remains an exploration of the relationship between the boys, which gets a boost of riotous realism from the evident bond shared by former That '70s Show costars and longtime pals Kutcher and Masterson. "His big break was That '70s Show, and if you watch the first couple of episodes of Season 1, our timing was already on," Masterson told TV Guide Magazine when The Ranch premiered in 2016. Here, the smarter-than-anyone-ever-gives-him-credit-for Kutcher expands on how the Netflix series is doing what no other TV show is attempting to, sharing the small screen with bona fide legends and which of his costars can actually kick his ass.
Read the cover story here.
Also in this special Streaming Preview issue:
Streaming Preview 2017: Kelsey Grammer returns to the small screen in The Last Tycoon, GLOW brings back the wild world of ladies' wrestling; Bloodline signs off after three tension-filled seasons; Billy Crudup joins Naomi Watts for the psychological drama Gypsy, and Marvel unveils its Defenders.
Fargo: Ewan McGregor previews the acclaimed FX series' conclusion and tells us why it's the best role(s) he's had in a decade.
Power: On the set for Season 4's of Starz's most-watched drama.
• Plus: A column by new contributor David Bianculli on TV's Platinum Age, Derek Hough tells us what it's like to be on the other side of the dance floor as a judge for World of Dance, all about those shocking spring finales and what's coming, a new adventure for the lost souls of Preacher, The Handmaid's Tale and Better Call Saul wrap things up (for now), and the best of movies, streaming, sports and more.