On newsstands December 29, 2016
Arnold Schwarzenegger takes over as host of The New Celebrity Apprentice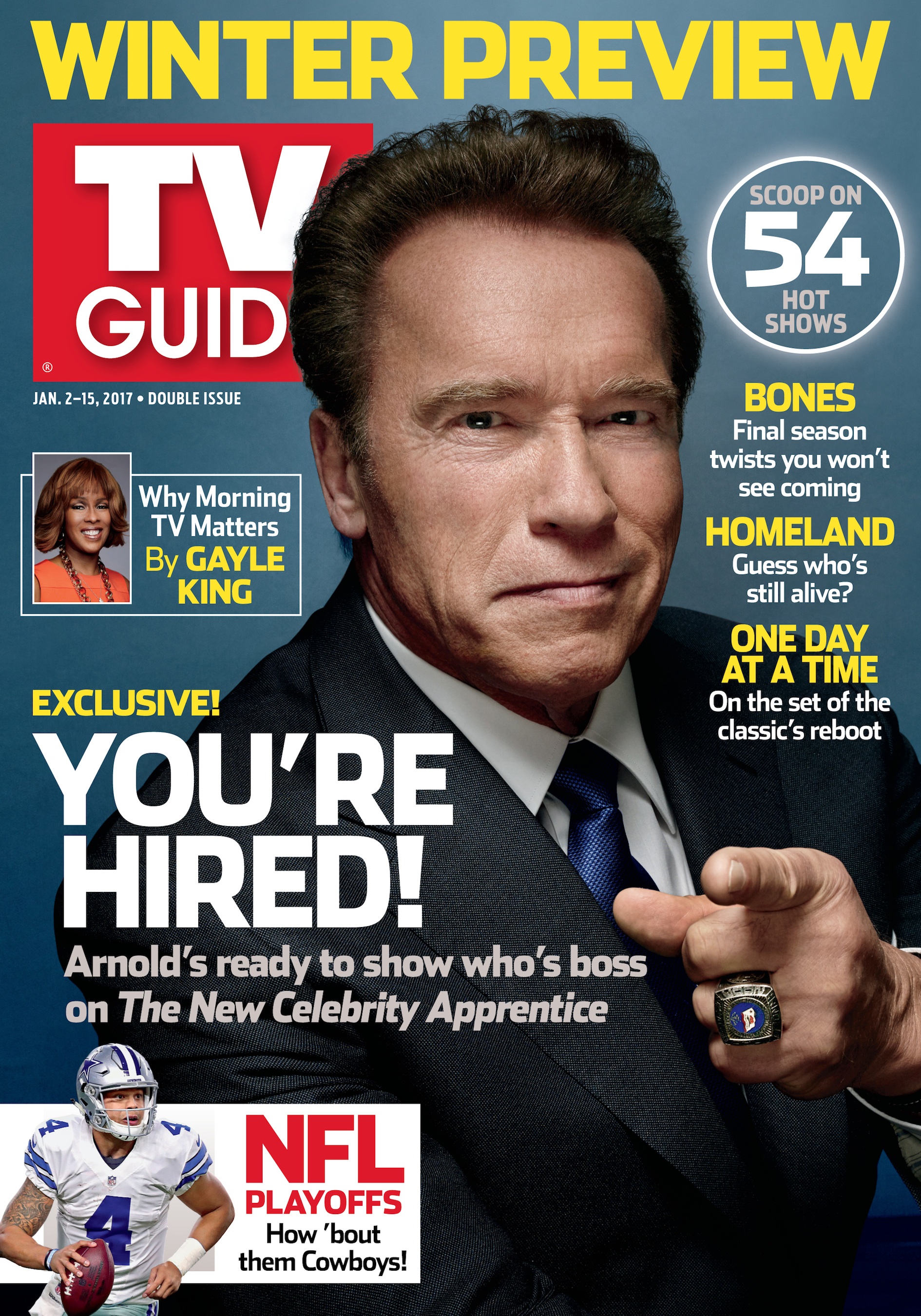 Wanted: head honcho for The New Celebrity Apprentice. Candidate must be larger than life. (Political experience a plus.)
As far as job vacancies go, the one at NBC's reality competition—created when longtime host Donald Trump stepped away in order to begin his successful bid for the presidency—is pretty tricky to fill. So it's a good thing that Arnold Schwarzenegger just happened to be available.
The hulking Austrian import's colorful résumé already includes stints as a professional bodybuilder, headliner of blockbuster films like the Terminator franchise and, of course, his 2003–2010 tenure as governor of California. And now the 69-year-old will flex his muscles in a starring role on TV for the first time, calling the shots while 16 famous contestants battle it out to raise money for charity. (Although Trump will retain his executive producer title—and financial stake—he recently tweeted that he will devote "zero time" to the series moving forward.) Schwarzenegger reveals how he'll put his own stamp on the boardroom—and what he really thinks about his polarizing predecessor.
Read the full story here.
Also in this issue: Winter Preview! 54 Shows!
• January: Our reports on all the new shows and returning favorites you'll want to cuddle up indoors for, including Homeland, The Young Pope (starring Jude Law and Diane Keaton), scoop on the final season of Bones, Josh Holloway talks the return of USA's Colony, and Norman Lear readies a modern take on One Day at a Time for Netflix
• February: Taken premieres on NBC, Damian Lewis on Showtime's dollars-and-sense drama Billions, everything you need to know about the reboot of 24. Plus: what's on tap for the Spring
• Plus: Matt Roush pays tribute to late Growing Pains star Alan Thicke, first looks at Sneaky Pete, The Fosters, Scorpion and Black Sails, Top Chef, guest columnist Gayle King on Why TV Morning Shows Matter and the best of movies, streaming, sports and more.