Wednesday, January 11, 2017
A sneak peek at Mariska Hargitay and Co. in Law & Order: SVU's 400th episode! (EXCLUSIVE!)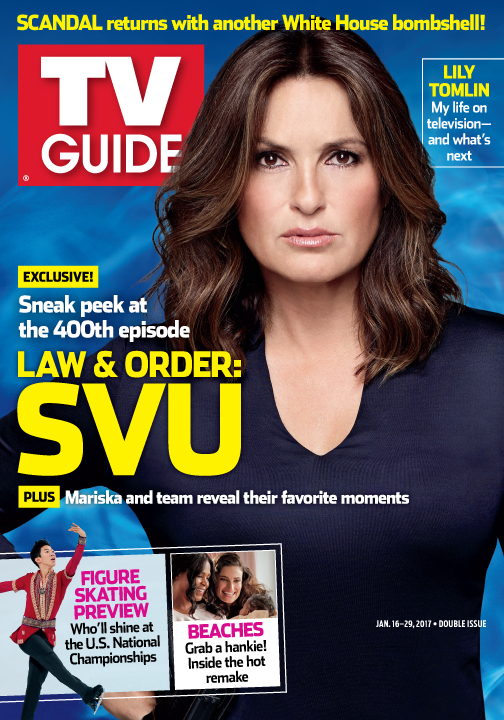 In the fall of 1999, Hurricane Floyd swept through the Southeast, Donald J. Trump announced his run for POTUS—on the Reform Party ticket—and Dick Wolf launched his first Law & Order spin-off,  Law & Order: Special Victims Unit.  Eighteen years later Trump has finally won that coveted job, and SVU is now the third-longest-running, live-action scripted show in television history after its progenitor and Gunsmoke, both tied at 20 seasons. On February 8, the sex crimes procedural will air its 400th episode as it inches closer to Law & Order's 452. (Gunsmoke's record 635 episodes seems unbreakable.)
Not bad for a show whose weekly intro touts a focus on "especially heinous sexual crimes" and whose opening reviews ranged from—"gripping hit" to "crimes that will have the cops and viewers holding their stomachs."
Delicate constitutions aside, SVU's longevity and continued sturdy ratings—currently NBC's third-highest rated scripted show—have been propelled by viewer-friendly stand-alone episodes and what Ice T, who's been playing Det. Fin Tutuola since season 2, cites as "a whodunit format that offers a chance for fans to play detective each week."
Read the full story on newsstands everywhere now.
Also in this issue:
• Star: Queen Latifah sings the praises of her brazen beauty parlor owner character in Fox's sassy, sexy new drama.
• Scandal: Season 6 shakes things up with the possibility of a female POTUS and more White House heat. Read here for more on why the creators opted for a premiere schedule bump.
• Six: Meet the military muscle behind History's new series, about a Navy SEAL squad, starring Justified and Vice Principals star Walton Goggins..
• Beaches: Grab a hankie (or two!) The 1988 Bette Midler film gets a reboot courtesy of Lifetime, starring Nia Long and Idina Menzel.
• Plus: Timeless meets Harry Houdini, Mercy Street, Grey's Anatomy's Jessica Capshaw, Suits re-tailors its focus, Lily Tomlin looks back on her storied career in a new guest column, Matt Roush on the late Carrie Fisher and M*A*S*H star William Christopher, TCM remembers Debbie Reynolds, and the best of movies, streaming, sports and more.