On newsstands January 3, 2019
2019 Preview: 'Game of Thrones' Final Season the Most Anticipated TV Event of the Year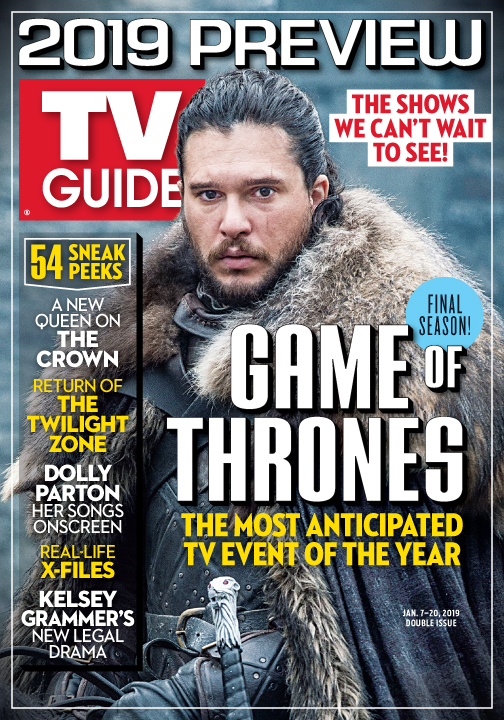 It has to be agonizing: The uncertainty. The anticipation. The wait for what fate has in store! We're not just talking about what may befall the Seven Kingdoms on Game of Thrones. This is about the 16 (!) months and counting that the fantasy's fanbase has been waiting for the eighth and final season… and we have another four months to go before HBO's drama about backstabbing (and front-stabbing) aristocratic families warring over a medieval-esque kingdom finally returns.
Thrones immediately grabbed audiences when it debuted in 2011, and the shocker-filled Season 7 finale drew a record 16.5 million viewers, with the feuding clans facing extinction if they didn't team up to win the looming war with the Army of the Dead. Unbelievably, everything we've seen so far was only a warm-up. "The scope of this [final] season definitely exceeds anything we've attempted before," says executive producer David Benioff, who, with fellow executive producer D.B. Weiss, adapted the series based on the bestselling novels by George R.R. Martin.
Exceeds anything?! Take that in for a moment (and keep the phrases "Red Wedding" and "Battle of the Bastards" in mind). Among the big developments in the Season 7 capper, the Army of the Dead — numbering at least 100,000 — broke through the massive ice wall at the northern border with a bolt of blue fire from dead dragon Viserion. Led by the Night King, they're marching south into Westeros.
Pick up a copy of the magazine for more.
Also in this issue:
2019 Preview: Kelsey Grammer plays a fiery lawyer in Proven Innocent; a first look at The Crown's new royals; breakout hit Killing Eve; a glimpse into the world of Neil Gaiman's Good Omens; The ABC Murders' new Poirot; a non-musical Les Mis adaptation; Deadwood movie intel; another Netflix venture for Dolly Parton; revisiting The Twilight Zone; and more.
2019 Calendar: Mark these dates down fast!
Special Report: Streaming Wars: The new year may bring four more services—from major players like Apple and Walmart—to the forefront. Here's what we know so far.
Plus: A Series of Unfortunate Events wraps up its tragically funny tale; Josh Hutcherson talks Future Man Season 2; Star Trek: Discovery resurrects Spock for the small screen; Senior Critic Matt Roush reviews True Detective Season 3 and Project Blue Book; and the best of movies, streaming, sports and more.