On newsstands April 12, 2017
Taylor Kinney, Jesse Spencer and the Cast of 'Chicago Fire': Why the Hit Drama is Hotter Than Ever!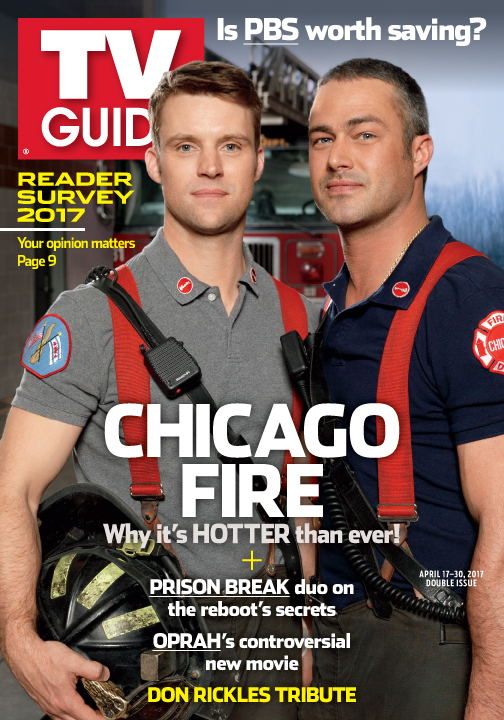 Five years ago, during the filming of the Chicago Fire pilot, legendary producer Dick Wolf was standing on a bridge over the Chicago River with Wolf Films president Peter Jankowski. "I said to him, 'I can see an interconnected police show here and possibly several more behind that,'" Wolf recalls. The Windy City mother ship, as Wolf describes Fire, "was the perfect starting point because the characters are likable, they interact with police, victims go to the hospital and some of them end up in court."
Flash forward half a decade. The police drama Chicago P.D., hospital-set Chicago Med and new law series Chicago Justice are all sturdy hits for NBC. With Fire leading the way, the dramas are four of the top seven highest-rated scripted shows on the network.
It's not surprising that Chicago Fire is the most popular. After all, who doesn't love firefighters? "These guys are brave enough to run into burning buildings that rats are running out of," says executive producer Derek Haas.
That courage is on full display in a scene from the April 25 episode that's being filmed on a snowy March day in Chicago. Lt. Matt Casey (Jesse Spencer) has rushed into a smoke-filled tunnel to try to rescue another company's overcome firefighters. He has only a few minutes to save them, since a gas leak could cause the site to blow at any time. One of those inside turns out to be Jason Kannell (Rosewood's Kamal Angelo Bolden)—a friend of Casey's from his old neighborhood—who has stayed in the tunnel to find his missing colleagues.
Fire's production team has built the realistic structure on the "burn stage," where all of the show's interior blazes are filmed. A haze from the harmless water-based smoke used for the effect fills the huge set. With the show's technical adviser, former CFD chief Steve Chikerotes, hovering nearby to check the accuracy of the scene, each actor carries a minimum of 60 pounds' worth of equipment, making it a hard slog for Spencer to drag a downed firefighter to a hoist that lifts him out of the tunnel.
As the scene progresses, an explosively loud whoosh suddenly halts the action. After a few seconds of confusion, it's discovered that oxygen from one of the working tanks an actor is wearing has escaped because he hadn't sealed his mask tightly enough around his face. (Actors playing firefighters can't grow beards for that reason.) "That's something we'd never had happen before," one crew member notes. In a few minutes, the action starts up again.
Also in this issue:
Designated Survivor: Cast member LaMonica Garrett snaps some prime behind-the-scenes photos of his fellow castmates on the ABC White House drama.
The Immortal Life of Henrietta Lacks: Oprah Winfrey talks about bring the best-selling novel to life in HBO's film version and taking on her most challenging role yet.
Elisabeth Moss: Upon the eve of the debut of the Hulu series The Handmaid's Tale—based on Margaret Atwood's benchmark novel—the actress looks back at the key TV roles that have led up to this new endeavor, from Picket Fences to The West Wing to Mad Men.
Prison Break: Michael and Linc are back! Dominic Purcell and Wentworth Miller remain true bros to the end, and weigh in on what's it been like to reunite for Fox's nine-part revival of the heart-racing action thriller.
• Plus: Speechless star Minnie Driver contributes a new guest column on how the mother has evolved on TV since the days of June Cleaver, Steven Weber on his charismatic NCIS: New Orleans baddie, the long-awaited return of Fargo with Ewan McGregor essaying dual roles, a look at what budget cuts could mean for fervent PBS viewers, The Good Fight's Rose Leslie shares her favorite TV-watching rituals, and the best of movies, streaming, sports and more.