On newsstands April 12, 2018
'SEAL Team': David Boreanaz and the Team Sign Up for a Second Tour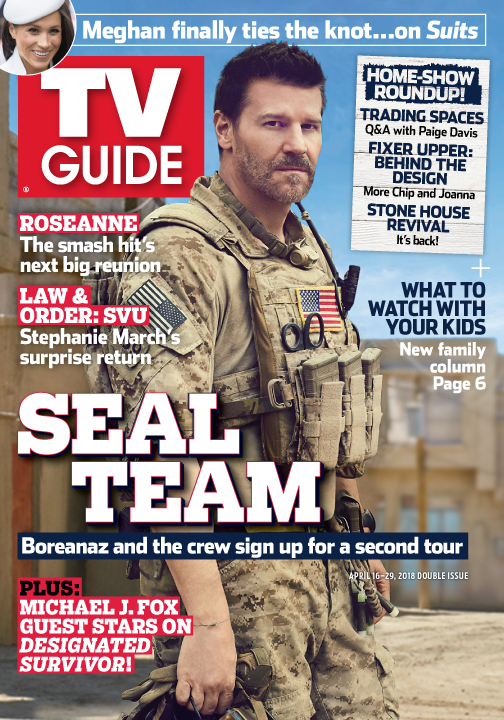 SEAL Team, David Boreanaz, CBS
Meet Jason Hayes (David Boreanaz), head of an exclusive military team protecting the USA while raising families (and hell). On the hot, dusty L.A. set of CBS's SEAL Team, a camo-clad Boreanaz shows us how it's done: dodging bullets to escape a bombed-out building, then going back to make sure his guys get out alive.
Watching this scene, you might think you've tuned in to CNN. The sets, gear and guns are super-detailed, thanks to technical advisers who include veterans of Delta Force, Army Rangers and Tier One Navy SEALs (that's "sea, air, land" for us civilians).
"The No. 1 thing I learned from them is that they have each other's backs," says Boreanaz, the square-jawed star of long-running TV hits Bones, Angel and Buffy the Vampire Slayer. "We never leave someone behind, have passion for what we do—and we really like to have a good time."
Also in this issue:
Suits: See Meghan Markle in white as wedding bells are a-ringin' in the season finale.
Roseanne: Sara Gilbert talks the moment that sparked the comedy revival with Roseanne Barr,
Westworld: What's next for Maeve and Dolores as the hosts strike back.
Plus: Stephanie March's Alex Cabot returns to Law & Order: SVU, Michael J. Fox shakes up the Oval Office on Designated Survivor and the best of movies, streaming, sports and more.