On newsstands September 27, 2018
'NCIS: New Orleans': Scott Bakula Previews All the Season 5 Surprises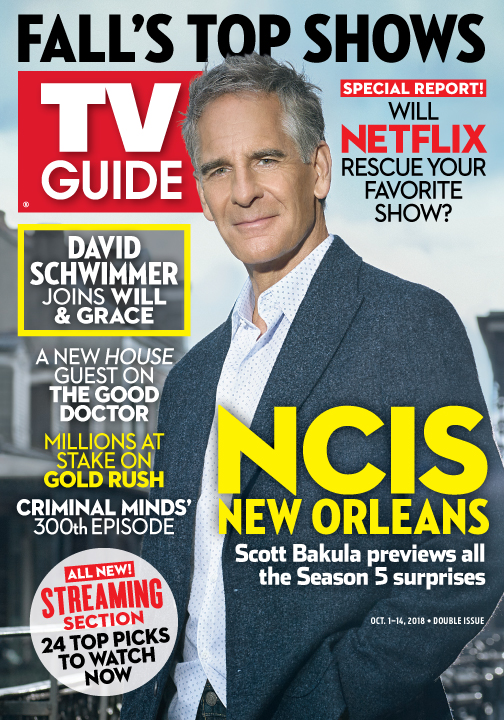 You could say that Scott Bakula is a superstitious guy. Not black-cat-and-broken-mirrors superstitious, but definitely a believer in jinxes. So when the cast and crew of NCIS: New Orleans started filming the series' 100th episode in early September, he refused any sort of group celebration until production was complete.
After all, he had yet to reach that number in a career crowded with favorites like the 1989–93 time-travel drama Quantum Leap (97 episodes) and 2001–05 Starfleet saga Star Trek: Enterprise (98 episodes). Plus, Tropical Storm Gordon was on the radar and rapidly approaching.
"It was blowing up through the Gulf," he recalls a few days later while sitting at a table in a deserted New Orleans hotel banquet hall. "I kept saying, 'This is going to destroy the 100th episode, and we're going to have to relocate.' We shouldn't have been talking about it!"
It never even drizzled. Call it a good omen…or a sure sign that Mother Nature is a fan of the vibrant CBS drama. In its fifth season, NCIS: New Orleans — in which Bakula's Dwayne "King" Pride and his dogged team solve military-based crimes in and around the Crescent City — has managed to stand out from the pack of procedurals because it focuses just as much on the city's rich history and culture as it does on the investigations. (Would Mark Harmon's Leroy Jethro Gibbs sing and tickle the ivories in his own bar on the D.C.-set NCIS? Don't think so.)
Also in this issue:
News: Will Netflix Save Your Favorite Show? Designated Survivor, Lucifer… what will be next?
Lisa Edelstein: From Seinfeld to The Good Doctor and The Kominsky Method: the actress's long career, in her own words.
Gold Rush: The stakes are raised on Discovery's highest-rated series.
Plus: David Schwimmer joins Will & Grace, Criminal Minds celebrates 300 episodes, The Haunting of Hill House, Doctor Who's game-changer and the best of movies, streaming, sports and more.