On newsstands July 5, 2018
Kevin Hart: 10 New Reality Shows That Have Us Fired Up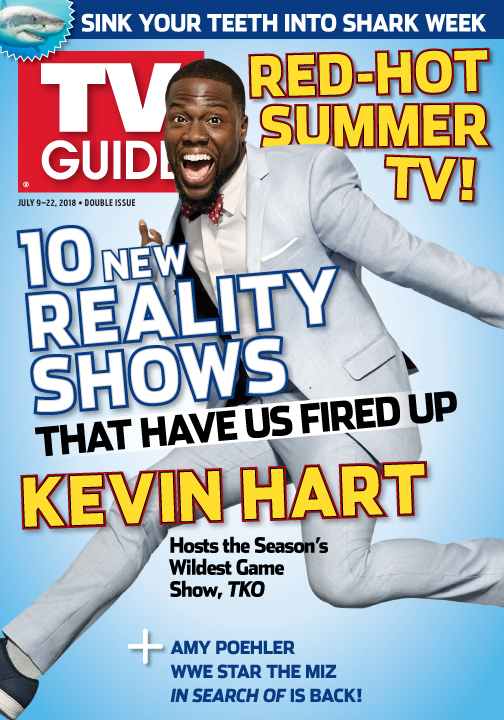 You might not think a new summer game show called TKO: Total Knock Out — where contestants run a goofy, fun house-like obstacle course while being pummeled with silly-looking foam projectiles by their opponents — embodies the power of positivity. But with comedy superstar/actor Kevin Hart running point as host, it sure does.
"TKO is about real people wanting to get the best out of themselves," says Hart, the star of box-office hits including Jumanji: Welcome to the Jungle and the Ride Along franchise, and whose comedy show, The Irresponsible Tour, is selling out venues worldwide. "It's amazing energy," he adds. "I feed off that. I love inspiration and motivation. I want to set up an obstacle course in my backyard now!"
We sat down with him at the Los Angeles headquarters of his Hartbeat Productions (where he arrived with armloads of envelopes and FedEx packages after stopping to pick up the office mail) to learn more about the wacky competition and how it became Hart's happy place.
Also in this issue:
Red-Hot Summer Reality: Shark Week celebrates 30 years; Amy Poehler and Nick Offerman get crafty with Making It; Zachary Quinto helms In Search Of 2.0 and a WWE power couple lets the cameras in.
Trial & Error: Lady, Killer: NBC's laughfest tackles a new murder case in Season 2 with Kristin Chenoweth as an East Peck socialite.
Suits: Katherine Heigl jumps aboard the USA drama as a no-nonsense lawyer.
Plus: Our dream Emmy nominations, a first look at Better Call Saul, Code Black's final call and the best of movies, streaming, sports and more.