On newsstands December 6, 2017
Cheers & Jeers: The Best and Worst Things in TV This Year!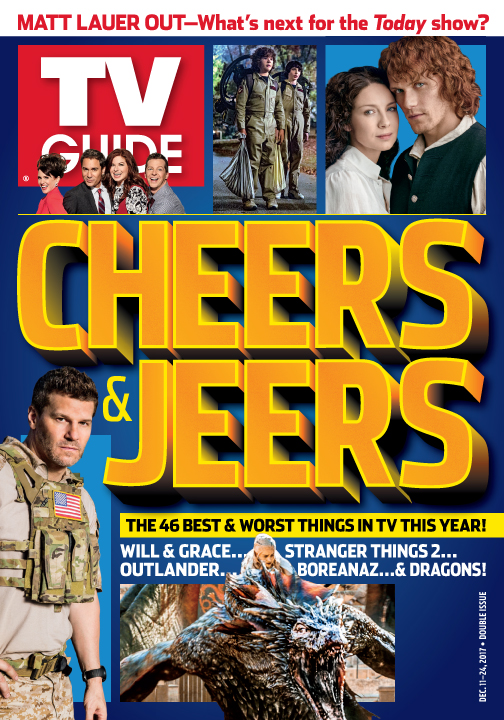 2017 brought some of the best and worst TV moments yet, and we're dissecting everything! Here's what we celebrated and what we shook our heads at.
Cheers to Game of Thrones for not playing around. Winter finally came and brought with it a risky, frisky seventh season that nixed snoozy plots (goodbye, Dorne!) and needless secondary characters (see ya, Dickon Tarly) to make room for more action of the battle, bedroom and fire-breathing variety (Emilia Clarke).
Also in this issue:
Morning Show Meltdown: TV news faces a crisis as Charlie Rose and Matt Lauer are fired for inappropriate behavior.
In Memoriam: Ed Asner remembers his former costar Mary Tyler Moore. Plus: tributes to David Cassidy and Jim Nabors.
Gunpowder: Move over, Jon Snow! Kit Harington returns to HBO with a thrilling historical series.
Man Among Cheetahs: Wildlife filmmaker Bob Poole follows a family of big cats.
The Roush Review Top 10 of 2017: Senior Critic Matt Roush names his faves of the year from The Handmaid's Tale to Downward Dog.
Plus: Inside the Downton Abbey exhibit, a chat with Crazy Ex-Girlfriend's choreographer, celebrating the anniversary of an underrated Beatles special and the best of movies, streaming, sports and more.