On newsstands June 23, 2016
ABC Catches Game Show Fever
By TV Guide Magazine Staff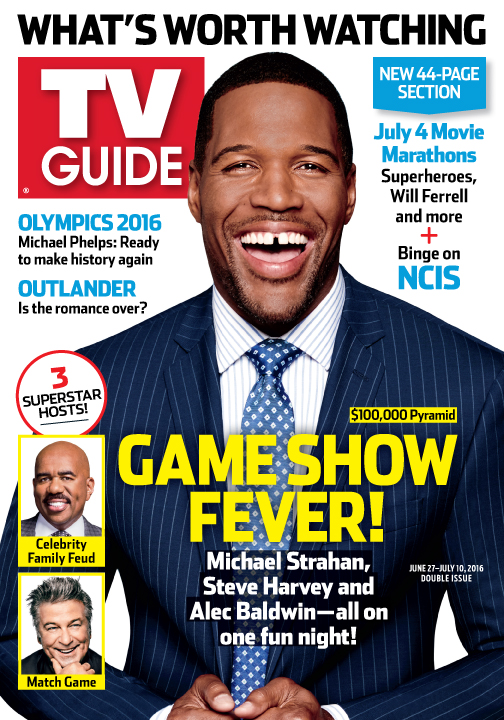 Cover photograph of Michael Strahan by Steve Erie
Let the games begin! ABC has gone all in with Sunday Fun & Games, a three-hour block of game shows that includes survey-driven Celebrity Family Feud, word-association challenge The $100,000 Pyramid and star-studded fill-in-the-blank competition Match Game. "Game shows are having this big primetime comeback because you can sit with your kids and laugh with each other," says Michael Strahan, who hosts the Pyramid reboot. "It's safe, it's fun and it's enjoyable." Strahan, Celebrity Family Feud host Steve Harvey and Match Game emcee Alec Baldwin break down ABC's winning lineup in this week's issue of TV Guide Magazine.
Also in this issue:
• Outlander: Previewing the climactic finish to Season 2
• Olympic Trials: Meet the top contenders to represent the Red, White and Blue at the Rio Games
• The Night Of: The HBO limited series murder mystery finally makes its debut
• Zoo: Prep for more thrills (and kills) when CBS's animals-on-the-loose drama comes roaring back
• Lisa Lampanelli: The outspoken insult comic offers five things she learned from Donald Trump on The Celebrity Apprentice
• Plus: UnReal's B.J. Britt, Killjoys, Tyrant, Preacher, Royal Pains, LEGO Star Wars: The Freemaker Adventures, and the best of movies, streaming, sports and more.